Four Seasons at Hillwood: Climbing Back Inside the Museum—or Fleeing!
In a spectacular transformation that is typical of his work, Philip Haas created a group of large-scale sculptures, inspired by Giuseppe Arcimboldo's renaissance paintings of the four seasons. The colossal size of Haas's sculpture accentuates the visual puzzle of natural forms—flowers, ivy, moss, fungi, vegetables, fruit, trees, bark, branches, twigs, leaves—as they are recycled to form four human portraits, each representing an individual season. The result is at once earthy, fanciful and exuberant—a commentary on Arcimboldo's style and a work of art in its own right.
Philip Haas remarks: "I started the Four Seasons project wanting to bring Arcimboldo's sixteenth-century nature imagery into the twenty-first century physical world. I can't think of a more intriguing venue than Hillwood's garden, where the sculptures will stand in juxtaposition with the collection, uncertain whether they should climb back inside the museum—or flee!"
In his heavily-illustrated talk, Haas will give an account of how he embarked on the project, how the works were made, and how they arrived and were installed at Hillwood.
Timeline
5:30-6:30 p.m.: Mansion, Four Seasons, and Deco Japan open for self-guided touring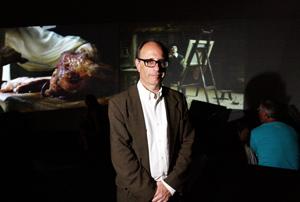 6:30-7:30 p.m.: Lecture
About the Artist
Philip Haas, in marrying sculpture, painting, film and architecture, has created a contemporary visual vocabulary all his own. He describes his process as "sculpting by thinking." Haas's groundbreaking artwork has been featured by museums including the National Gallery of Art (Washington, DC), Kimbell Art Museum (Fort Worth, Texas), Nelson-Atkins Museum of Art (Kansas City, Missouri), Dulwich Picture Gallery (United Kingdom), Peggy Guggenheim Collection (Venice) and Centre Georges Pompidou (Paris). In the public realm, his work has been exhibited in the Piazza del Duomo (Milan) and Gardens of Versailles (France). He is the recipient of a Guggenheim Fellowship, the Venice Film Festival's Premio Open, as well as other awards. His feature film, Angels & Insects was nominated for the Palme d'Or and an Academy Award.
Four Seasons at Hillwood: Climbing Back Inside the Museum—or Fleeing!