The Artistic Table Floral Workshop
A visual feast at the artistic table is enchanting and sets the tone for a delightful evening. In this hands-on floral design workshop, you'll create a centerpiece inspired by the special exhibition.
All materials are included. The completed arrangement will be approximately twelve inches wide and feature the color scheme photographed below. Payment is required in advance due to materials fees, and is non-refundable. This program is limited to ten people, and must have a minimum of four participants to take place.  In the event that the workshop is cancelled, participants may choose to participate in another session.
About the Instructor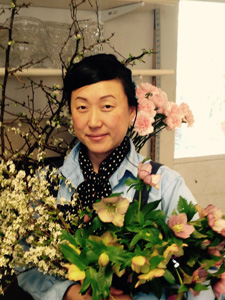 Ami Wilber became the floral and event décor designer at Hillwood in November 2016. Ami has over twenty-five years of experience as a floral designer. She received a bachelor's degree in fine art from Miami University of Ohio and a Master's of Fine Arts from the Rochester Institute of Technology, School for American Crafts. Prior to joining Hillwood, Ami created sculptures and has exhibited her installations at galleries and public spaces in Washington, DC.
The Artistic Table Floral Workshop