Roaring Twenties: The Life and Style of Marjorie Merriweather Post
Roaring Twenties: The Life and Style of Marjorie Merriweather Post
-
Explore the Jazz Age fashion, decorative art, jewelry, and design that made Marjorie Merriweather Post one of the most influential women of the 1920s.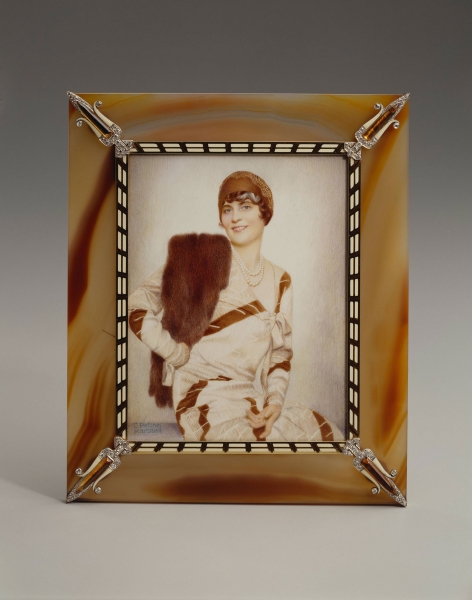 Hillwood founder Marjorie Merriweather Post was an iconic tastemaker during the era known as the Roaring Twenties. One hundred years later, Hillwood celebrates Post's influence on the period with a special exhibition focused on her impeccable attire, impressive art collection, and sumptuous design. 
The progress, prosperity, and liberation that characterized the 1920s had a significant effect on the role of women in America, and Marjorie Post was no exception. The Post Cereal Company, which she inherited from her father, was thriving and she, along with new husband E.F. Hutton, established herself firmly within the new society that was burgeoning. The stylish French eighteenth-century furnishings and decorative arts that once populated her multiple residences, the glamorous attire that typified the independent "new woman," and her astonishing collection of exotic gems and jewelry tell the story of the Roaring Twenties through the lens of one of its most influential women.
F. Scott Fitzgerald (1896–1940) epitomizes this age of excess and glamour embraced by Post and her peers in his 1926 novel, The Great Gatsby, writing, "The parties were bigger. The pace was faster, the shows were broader, the buildings were higher, the morals were looser, the liquor was cheaper." As wealthy business and social figures darting between New York City, Palm Beach, and Europe, Post and her husband, Hutton, found themselves at the center of this splendor, which will be feted to dazzling heights at in this special exhibition.  
 
Highlights
Decorative objects on view in the exhibition reflect Post's important criteria for collecting: that objects be finely crafted, made of exquisite materials, and have royal connections. She was a major client of Cartier during this period and like many of her wealthy cohort chose exquisite frames and personal accessories in bold, deco designs studded with jewels. Some of the fashion accessories she added to her collection during this time are evocative of the popular Western taste for exotic design, especially her collection of Chinese hand-painted silk and carved ivory fans and a white jade and needlepoint Cartier handbag. Post also acquired her famous carved Mughal Emerald brooch pendant and accompanying necklace to punctuate her more dramatic looks. 
The style in which Post furnished her residences, including her palatial New York triplex apartment, was emblematic of what was in vogue at the time. A French eighteenth-century chest of drawers, crafted of wood marquetry, ormolu, and marble reflects the type of furniture that was the trend of the day. Gold boxes and objects of vertu were also popular among collectors of the early twentieth century. A pair of heart-shaped boxes made in the mid-eighteenth century are among the rarest pieces in Hillwood's collection. They epitomize Post's taste for beautifully crafted items and her affinity for these small objects that embody the civility and frivolity of the Ancien Régime. These works, and others, will be on view among re-creations of Post's residences of the time.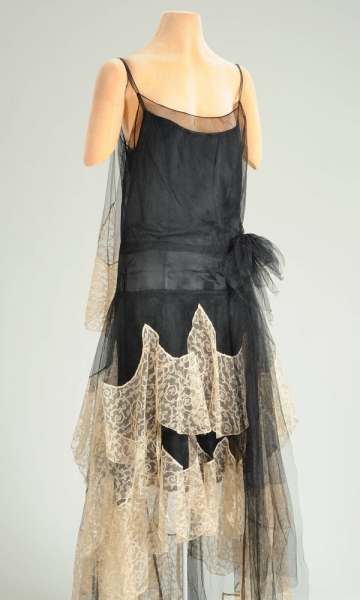 With her marriage to E.F. Hutton in 1920, Post's social agenda expanded to Gatsby-level proportions, demanding splendid gowns and ensembles for parties, operas, and other lavish events for which the era became famous. Post commissioned her attire from New York's finest dressmakers and boutiques, frequenting Bergdorf Goodman, Madame Frances, and Thurn. Dresses in the exhibition include drop-waisted, flapper-style gowns, dramatic capes, and custom fancy-dress ball costumes.
Sponsors
Roaring Twenties: The Life and Style of Marjorie Merriweather Post is sponsored by The Marjorie Merriweather Post Foundation, Janice and Ralph Shrader, Northern Trust, Ellen MacNeille Charles, Ms. Nedenia Rumbough and Mr. Jan Roosenburg, Diane B. Wilsey, and Elizabeth Elser Doolittle Charitable Trusts. All exhibitions and programs are funded in part by the U.S. Commission of Fine Art through the National Capital Arts and Cultural Affairs program. This project is supported by the DC Commission on the Arts and Humanities.