Madam Walker's Villa Lewaro
This is the third program in the Great Homes and Gardens lecture series.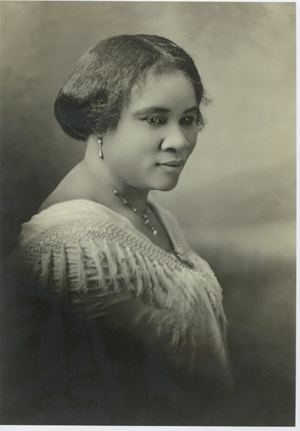 One of America's first female self-made millionaire, Madam C.J. Walker, built Villa Lewaro, an extraordinary Italianate mansion in the Hudson River Valley. Born the daughter of formerly enslaved people in 1867, Walker built an empire of beauty and hair products specially designed for and marketed to black women. 
In 1916, she commissioned a thirty-room mansion from New York State's first licensed black architect, Vertner Woodson Tandy. Unlike her wealthy white neighbors, including John D. Rockefeller, Walker's home was situated to be visible to those traveling between New York City and the state capital in Albany. Walker built her home to be a monument to her race, an inspiration to the African American community about a wealth of business possibilities.
The most famous home owned by an African American during the early twentieth century, Villa Lewaro served as an intellectual gathering place for leaders of the Harlem Renaissance, a hub for civil rights activism and discussions about the status and treatment of black soldiers in France during World War I.  True to Walker's vision, the National Historic Landmark and National Trust for Historic Preservation National Treasure remains an inspiration for women entrepreneurs and young African Americans.
EVENT TIMELINE
5:30-6:30 p.m. | Natural Beauties, mansion, and greenhouse open for self-guided touring.
6-6:30 p.m. | Members-only wine and cheese reception. Join today!
6:30-7:30 p.m. | Lecture.
7:30 p.m. | Book signing. On Her Own Ground: The Life and Times of C.J. Walker is available at the museum shop.
ABOUT THE SPEAKER
A'Lelia Bundles is an engaging public speaker and skilled MC, who brings warmth, intelligence, humor and a strong grasp of current events and history to her presentations. Author and journalist A'Lelia Bundles writes biographies about the amazing women in her family: entrepreneur Madam C. J. Walker and Harlem Renaissance icon A'Lelia Walker. She also speaks at conferences, colleges, corporations and other venues about entrepreneurship, philanthropy, financial literacy, women's history and African American history.
After a 30-year career as an executive and Emmy award-winning producer with ABC News and NBC News, she now is brand historian for Madam C. J. Walker Beauty Culture, a line of hair care products created by Sundial Brands. She is a trustee of Columbia University and immediate past chairman of the National Archives Foundation. 
An upcoming Netflix project starring the brilliant Octavia Spencer is based on Ms. Bundles's biography, On Her Own Ground: The Life and Times of Madam C. J. Walker, which will be reissued in early 2020.
ABOUT THE SERIES
Escape Washington's dreary February and immerse yourself the stories of extraordinary homes, lush gardens, and the people who brought them to life.
February 6 | Tony Duquette's Dawnridge with Hutton Wilkinson
February 11 | Beyond Gatsby: The Fabled Gardens of Long Island's Gold Coast with CeCe Haydock
February 18 | Madam Walker's Villa Lewaro with A'Leila Bundles
February 25 | The New Elegance: Designing Around the World with Timothy Corrigan
 
Madam Walker's Villa Lewaro