Russian Porcelain Room
When visitors enter the Russian porcelain room, they are welcomed by a majestic double-headed eagle inlaid in the center of the floor. This imperial coat of arms sets the tone for the Russian glass and porcelain lining the walls, mostly produced in imperially owned or sponsored factories.
In 1937 and 1938 Marjorie Post's third husband, Joseph E. Davies, served as United States ambassador to the Soviet Union. Although she had been an avid collector of French porcelain since the 1920s, she fell in love with the beautiful Russian porcelain and glass for sale by the Soviets to fund their industrialization program. While her acquisitions in the Soviet Union formed only the nucleus of her Russian collection, her experience there sparked a passion that lasted the rest of her life.
The most prominent pieces displayed in the Russian porcelain room belong to four order services commissioned by Catherine the Great in the late eighteenth century. Knights of the various orders honored for their government and military service used these pieces when they dined at the Winter Palace on the feast day of their patron saint. This type of provenance was extremely attractive to Post, who embraced Russian porcelain for its beauty, craftsmanship, and direct association to the imperial families. An excellent example of a piece from one of these orders is the basket from the Order of St. George Dessert Service, which contains the order's star and ribbon on either side.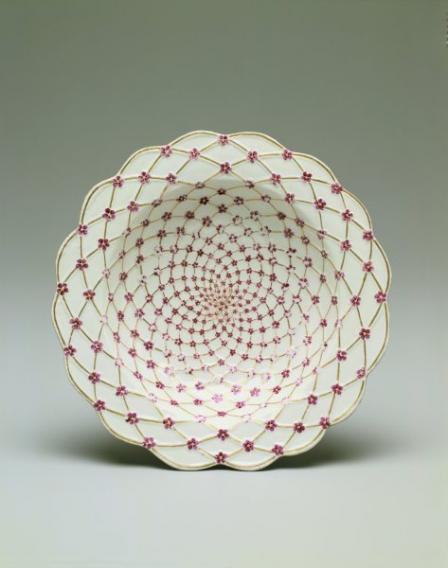 Other important services from the Imperial Porcelain Factory are featured in this space. A soup plate from Her Majesty's Own Service, produced for Elizabeth I of Russia in the late 1750s, was part of the first service made by the Imperial Porcelain Factory. Plates from the Kremlin Service, from the early to mid nineteenth century, reflect Nicholas I's desire to return to a "traditional" Russian style.
The display cases in this room and others on the first floor were well-planned elements added by Post. In planning the renovations for Hillwood in 1955, the forward-thinking collector requested that built-in, lighted display cases be included in almost every first floor room. Further evidence of her intention to share the collection is found in the pull-out trays with object labels just underneath the cases. Though these are not in use today, Post's desire to educate visitors about the collections is carried on through the variety of ways that visitors can learn about the collections—including docents and audio tours.