Entry Hall
A Grand Entrance
Here, exquisite furnishings and objects introduce the dual interests that guided Post's passion for collecting: the decorative and fine arts of eighteenth-century France and imperial Russia. 
Climb the regal staircase with its French wrought-iron and gilt-bronze railing and encounter the Russian monarchy as tsars and tsarinas gaze from the many portraits that line the way, revealing Post's interest in royalty.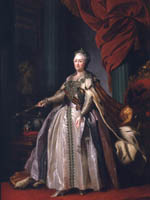 Marjorie Merriweather Post was fascinated by Catherine the Great. Catherine was a self-declared "defender of the arts and sciences" and credited with modernizing Russia. A powerful full-length portrait of her presides over the entry hall stairway. 
Along the faux-stone walls flanking the first floor library, Post's discerning taste for the superbly crafted furnishings of eighteenth-century France are introduced in two commodes, or chests of drawers, by German-born Jean-Henri Riesener, official cabinetmaker to Louis XVI and Marie Antoinette. Atop these commodes are vases made by the Sèvres Porcelain Manufactory featuring African Birds. Farther down the hall, toward the Russian Porcelain Room, sit two Imperial Russian Porcelain vases, gifts to Post from Madame Molotov during her stay in the USSR. 
Above it all hangs a dazzling and rare French rock crystal chandelier believed once to have hung in Russia's Gatchina Palace, illustrating Post's two-fold passions while it illuminates the space.