Horticulture How-To | Pollinator-friendly Container Garden
Create your own beautiful container of flowering plants that attract butterflies, birds, bees, and other pollinators.
At least seventy-five percent of the world's flowering plants (including many fruits and vegetables) depend on pollinators. Populations of these friendly animals are declining, but even small gardens of pollinator-friendly plants provide crucial habitat.
Urban beekeeping experts Sean McKenzie and Rachel Perry of Capitol Bee Care and the Bee Care Institute will discuss honeybee health and the role of urban beekeepers in the DC-area. Jessica Bonilla, Director of Horticulture, highlights the role pollinator-friendly plants play in creating crucial habitat for these friendly animals, and creates a small container garden with a colorful mix of perennials and annual blooms. 
Supplies are not included but a materials list, suited​ to sunny locations in the mid-Atlantic climate, will be shared in advance should participants wish to follow along at home.
OPTIONAL MATERIALS FEE
For an additional fee of $40, participants will receive all necessary materials, including a container, soil and plants, including perennials such as bee balm, salvia, and catmint, annuals such as gomphrena, lantana, and lobularia, and verbena, which is a strong reseeding plant.
Exact supplies may vary based on availability due to coronavirus-related supply chain issues. Participants will need to water their containers regularly. Materials are limited to twenty.
Interested participants must pre-order their materials by 5 p.m. on Tuesday, May 18, and collect them from Hillwood the morning of the program. Contact-free pickup is available between 10 a.m. and noon on May 21.
CONNECTING WITH ZOOM
This virtual program is presented live via Zoom. The workshop begins at 1:30 p.m. and an online "waiting room" opens at 1 p.m. Questions can be submitted via the chat feature. Please note that this workshop will be recorded.
Registered participants will be emailed a link to join this Zoom program. To get started, please download Zoom on your chosen device and explore the Frequently Asked Questions. 
ABOUT THE PRESENTER
Jessica Bonilla (she/her) became Hillwood's director of Horticulture in 2020, after more than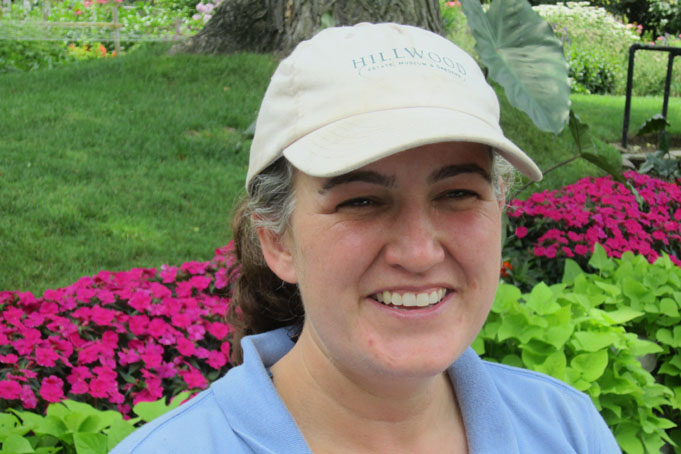 a decade as the head gardener. She leads her staff in maintaining all aspects of garden upkeep. With over 20 years of experience, she started her career in commercial landscaping and in 2000 became head gardener at a private estate in Rochester, NY, where she also ran her own landscaping business. She currently leads a variety of educational programs at Hillwood and teaches the botany class for the DC Master Gardener program. She has a bachelor's degree in Landscape Contracting from Penn State and is a member of the Boxwood Society.
Horticulture How-To | Pollinator-friendly Container Garden