Japanese-style Garden
Designed by Shogo Myaida and clearly reflecting Marjorie Post's love of collecting decorative objects, this non-traditional Japanese garden offers action and intrigue instead of opportunities for contemplative meditation found in other Japanese gardens. Well-placed stone lanterns, pagodas, symbolic animals, and statues with storied significance populate the various niches.
The plants provide interesting contrasts of color and texture. The delicate tracery of the reddish Japanese maple is juxtaposed with the evergreen white pine towering over it, its soft fat clumps of needles silhouetted against the sky.  Hundreds of carefully placed stones create a subtle structure that adds stability to the garden, while flowing water activates the senses of sight and sound.
Sculpture in the Garden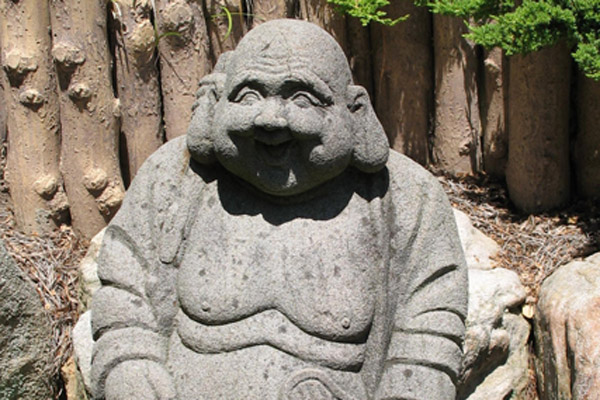 Many stone figures reinforce the Japanese atmosphere in this garden. For example, a magnificent pair of stone foo dogs sits in front of a small rock pool at the top of the garden. Meant to ward off evil spirits, the dogs are practically identical except that one has its mouth open while the other keeps its mouth closed. Japanese Buddhist temples, noble residences, and even private homes often contain their own foo dogs.
In his own shrine-like area about half way down the garden sits Hotei. A fat, jolly man, he is one of the seven Japanese-Buddhist gods of luck. With his large belly a symbol of his large soul, Hotei holds a fan and carries a sack filled with the precious things in life
A little American, a little Japanese
Hillwood's Japanese-style garden is an artful blend of Japanese and American garden traditions. For example, North American plant species, such as the Colorado blue spruce by the large stone lantern, are juxtaposed with Asian species, such as the Japanese maple. According to Shogo Myaida, this mixture was deliberate. When asked why he did not insist on strict Japanese design, he explained that his gardens must be "suitable to the property and the personality of my client…" The result is a magical garden perfectly integrated into the space and personality of Hillwood.