Orchid Floral Workshop
Conjure tropical bliss during a dreary month with this elegant floral arrangement featuring orchids.
In this hands-on workshop you'll create a stunning flower arrangement including a living orchid. All materials are included. The completed arrangement will be approximately twelve inches wide.
This program is limited to sixteen people. Payment is required in advance and is non-refundable.  This workshop must have a minimum of four participants. In the event the workshop is canceled, participants may choose a refund or to participate in another session. Please wear comfortable shoes and clothing. You'll be standing and working with plant material. 
ABOUT THE INSTRUCTOR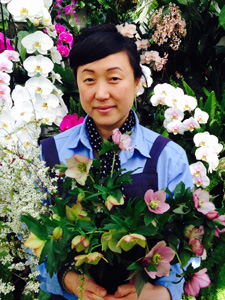 Ami Wilber became the floral and event décor designer at Hillwood in November 2016. Ami has over twenty-five years of experience as a floral designer. She received a bachelor's degree in fine art from Miami University of Ohio and a Master's of Fine Arts from the Rochester Institute of Technology, School for American Crafts. Prior to joining Hillwood, Ami created sculptures and exhibiting her installations at galleries and public spaces in Washington, DC. 
Related Programs
Tue, Mar 1 - Thu, Mar 31 2022, All day
Marjorie Merriweather Post had a lifelong love affair with orchids, her favorite flower, investing significant resources into fueling this passion. Today, Hillwood's collection contains over 2,000
Orchid Floral Workshop