Breakfast Room
With sun drenching the foliage inside and its 180° view over the expansive Lunar Lawn, the breakfast room blends seamlessly with the glorious outdoor spaces. On a beautiful Washington spring day, one can imagine an open window inviting the rippling of the fountain just outside.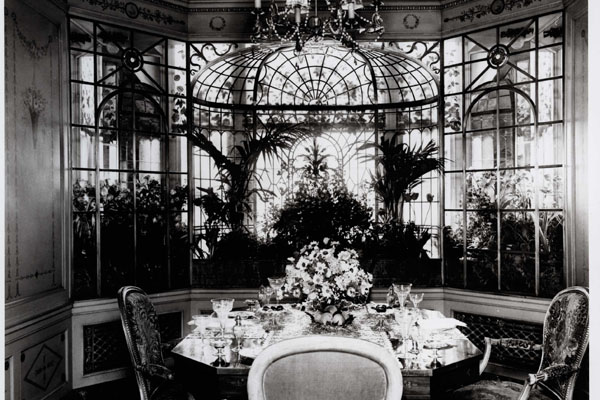 The design of this space recalls the breakfast room in Post's New York City apartment and the bronze metalwork that lines the space comes directly from that fashionable Upper East Side residence.
Just as Post would have the table set for four at all times, even when dining alone, today place settings on the breakfast room table are changed several times per year to display the richness of her collection while vibrant floral arrangements show off the bounty of the cutting garden and greenhouse. A green chandelier from a bedroom used by Catherine the Great in the Catherine Palace at Tsarskoe Selo ties the breakfast room to the magnificent Russian collection.