Flowering Branches Floral Workshop
Nothing conjures spring quite like the arrival of flowering branches, such as forsynthia, cherry blossoms, and quince.
In this hands-on workshop you'll create a stunning floral arrangement of springtime branches and complimentary blooms.
All materials are included. The completed arrangement will be approximately twelve inches wide. The flowering branch selected for your use will depend on seasonal availability.
This program is limited to ten people. Payment is required in advance and is non-refundable.  This workshop must have a minimum of four participants. In the event the workshop is canceled, participants may choose a refund or to participate in another session. Please wear comfortable shoes and clothing. You'll be standing and working with plant material. 
About the Instructor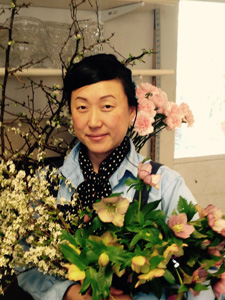 Ami Wilber became the floral and event décor designer at Hillwood in November 2016. Ami has over twenty-five years of experience as a floral designer. She received a bachelor's degree in fine art from Miami University of Ohio and a Master's of Fine Arts from the Rochester Institute of Technology, School for American Crafts. Prior to joining Hillwood, Ami created sculptures and exhibiting her installations at galleries and public spaces in Washington, DC. 
Flowering Branches Floral Workshop