Post Bedroom Suite
Bedroom
From the Louis XVI canopied bed to the dresses on Post's daughters Adelaide and Eleanor in the Pierre Tartoué portrait, a pink and gold color scheme dominates Hillwood's primary bedroom. A neoclassical desk by Conrad Mauter, a cabinetmaker of German descent working in Paris in the eighteenth century, is situated to the side of the bed. Contrast this piece's simple lines with the swirling decorations on the Roentgen desk in the French drawing room.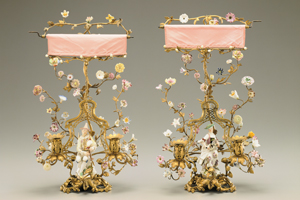 An exquisite pair of candelabra made by the Vincennes Porcelain Manufactory around 1750 exemplifies the eighteenth-century mastery of porcelain with its delicate porcelain flowers and figurines. A display case of étuis—small cases to carry sewing or toilet items—snuff boxes, and other small containers made primarily of Post's birthstone, bloodstone, shows her excellent eye for small decorative objects. A charming painting by Jean-Honoré Fragonard of Love among the clouds completes the eighteenth-century decorations.
A portrait of Post by Douglas Chandor hangs above the mantle. One of the collector's beloved orchids is always displayed below the painting. Commissioned by her daughter Eleanor, the portrait remains incomplete due to the sudden death of the artist. The loss is most keenly felt in the incomplete hands, Chandor's most famous attribute.
Dressing Room
A nucleus of activity at Hillwood, the dressing room served as Post's morning office. There she took her breakfast, discussed menus with the butler and correspondence with her secretary, and otherwise ordered her day. Surrounded by photographs of her family and with a view of the French parterre, Marjorie Post ran her empire as she did everything: with effortless elegance. 
Closets
No bedroom suite would be complete without an extensive system of closets. Slightly altered from their original size, the hallway contains built-in display cases used to showcase pieces of Post's jewelry and other fashion accessories. In the two closets, visitors are treated to a parade of vintage gowns from the apparel and accessories collection.
A case designed to showcase pieces from Post's exquisite collection of lace is located in the larger of the closets. An avid collector, Post developed a passion for this luxury item that had served as a sign of affluence and social standing for centuries. Her extensive lace collection eventually contained over 3,000 items.