A Family Country House
This program is the third part of the Great Homes and Gardens Series.
Providing an insider's look into the twenty-year evolution of a multi-generational family home, Alex Papachristidis will be discussing the renovations and interior design alterations that have occurred over the years in order to suit the needs of an ever growing family. As a man of the house and an interior decorator, Papachristidis is in the unique position of being able to cater to the changing needs of the family which are reflected in the design of the property.
Event Timeline
5:30-6:30 p.m.: Mansion and The Artistic Table open for self-guided touring
6-6:30 p.m.: Members-only wine-and-cheese reception
6:30-7:30 p.m.: Lecture
7:30 p.m.: Book Signing. The Age of Elegance is available in the Museum Shop
About the Speaker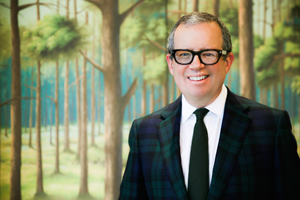 The work of interior decorator Alex Papachristidis has been described as thoughtful, personal, sophisticated and eclectic. Having mastered the skill of fusing modern and traditional elements, editors, designers and clients' alike use the word "fresh" to define his elegant approach, color palette, and the delightful details that make even a small room sizzle with style. Born and raised in New York City, Alex Papachristidis traveled widely in his youth, helping to cultivate his eye for interior decorating. Papachristidis established his own firm in 1987, and today, is known for arresting, elegant interiors that meld classical motifs with a modern perspective and sophisticated details.
Alex Papachristidis' work has been featured in Architectural Digest, Elle Décor, House Beautiful, House & Garden, Southern Accents, InStyle and The New York Times. He has also been featured in a number of published works, and in 2012, his own book The Age of Elegance: Interiors by Alex Papachristidis was published by Rizzoli, garnering praise from readers and critics alike. Papachristidis was named to the 2017 AD100 List, Elle Décor's "A-List of 25 Interior Designers" and for several years in a row has been on the NY Spaces' "Top 50 Designers List."
About the Great Homes and Gardens Series
Escape the cold Washington winter and immerse yourself in the stories of luscious garden estates.
Tuesday, February 6: Marshall Watson, From the Inside Looking Out: A Dirt Gardener's Journey to Elegance
Thursday, February 15: Timothy Corrigan, The Elements of French Style
Tuesday, February 20: Alex Papachristidis, A Family Country Home
Wednesday, February 28: Barry Dixon, Looking Outside to See Our Way Inside
A Family Country House