Ingenue to Icon: 70 Years of Fashion from the Collection of Marjorie Merriweather Post
Ingenue to Icon: 70 Years of Fashion from the Collection of Marjorie Merriweather Post
-
Discover the elegant designs, sumptuous fabrics, and fashionable styles that distinguished seven decades of Marjorie Post's apparel. 
Now extended to January 10, 2016.
Carefully selected gowns, dresses, outfits,and accessories presents the evolution of twentieth-century fashion
The first exhibition at Hillwood to present Marjorie Post's full range of style, Ingenue to Icon will examine how Post's lifelong passion for objects that were exceptionally beautiful and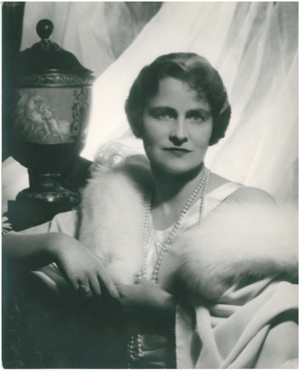 impeccably constructed extended to her taste for clothing. Even before she became a celebrated connoisseur and assembled a renowned decorative arts collection, Post developed a keen interest in clothing and a great appreciation for the richness of fabrics, expert tailoring, and elegant design. From a confection in tulle and taffeta made for her 16th birthday to the flapper silhouettes of the 1920s and sophisticated gowns of the 1950s, Post's changing styles are consistently characterized by fine craftsmanship, beautiful materials, and fashionable styles.
Post was born in 1887 and came of age during some of the most transformative times for American women in the 20th century. She played many roles throughout her life, from a young Edwardian bride, to high-profile business and society figure, to independent grande dame. She was always aware that how she presented herself, particularly through her dress, reflected her personality while projecting her role to society. The seven decades of apparel represented in the exhibition and the accompanying archival materials and portraits also offer insights into the progress of American society from the early 1900s to the 1970s and a new perspective on an emblematic woman whose life, sense of self, and wardrobe reflect the rapidly changing times.
Post's Apparel Collection at Hillwood
With its renowned collection of Russian imperial art and French decorative art, Hillwood has long served as a testament to Post's influence as an art collector and connoisseur. With great insight, Post also left to Hillwood the most important examples of apparel and accessories she acquired over the years and today they serve as added perspective into her life of exceptional purpose, elegance, and style. "Throughout her life, Marjorie treated her clothing in much the same manner as her art collection," explained Hillwood's associate curator of textiles and curator of the exhibition, Howard Vincent Kurtz. "She knew that her clothing represented not just her own style, but a record of women's fashion. Thanks to that vision, today Hillwood has a singularly complete collection of costumes and accessories that is a resource for the study of American style and the changing role of women in the 20th century." Ingenue to Icon draws from Hillwood's collection of more than 175 dresses and over 300 accessories, including shoes, hats, gloves, and purses.
Styles for Every Season
The full range of Post's style is presented in two segments, featuring spring and summer wear through September and fall and winter looks from October through December. The exhibition will be closed on Tuesday, September 29 and Wednesday, September 30, while the displays in the Adirondack building and throughout the mansion are changed to present a whole new selection of fashions.
Publication
A full-color 150-page companion publication also titled Ingenue to Icon: 70 Years of Fashion from the Collection of Marjorie Merriweather Post  has been published in conjunction with the exhibition. The lavishly illustrated book, authored by Howard Kurtz and Trish Donnally, with an introduction by Nancy Rubin-Stuart, is divided into sections that highlight Post's evolving fashion sense, her personal identity, and historical context for the dresses being discussed. The fashions illustrated in this volume are complemented by numerous images of accessories, as well as archival materials, sketches, newspaper clippings, and personal notes.   
Included in suggested donation