French Porcelain Room
Housing Marjorie Post's renowned collection of Sèvres porcelain, the French porcelain room testifies to her enthusiasm for her collection and her plan to establish Hillwood as a museum. Majestically displayed in built-in cases she had designed for this purpose, this room contains a wide variety of objects. The diversity of the collection—various colors, shapes, sizes, and decorative motifs are present—demonstrates the tremendous skill and prolific output of France's Sèvres factory.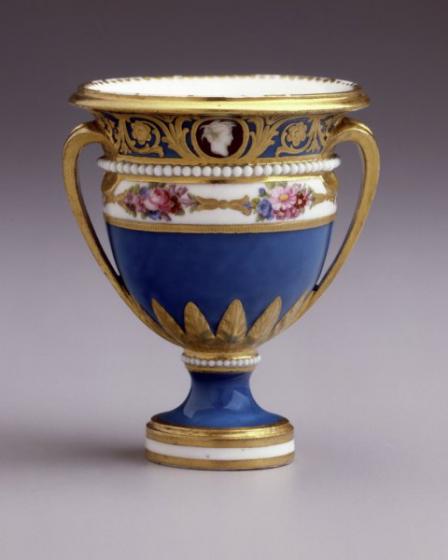 Post began purchasing French porcelain in the 1920s and retained a lifelong love for the famed blue celeste, or "heavenly blue," pieces. A large tureen made in 1754, probably from the first complete service that the Sèvres factory ever made, is notable for the curving shapes reminiscent of eighteenth-century architecture that became a hallmark of Sèvres design. An ice cup from the Cameo Service, commissioned by Catherine the Great, shows the great manufactory still producing dazzling works in the blue celeste hue over a quarter century later. 
Blue celeste pieces are not the only objects of note, however. A cup and saucer with a portrait of Benjamin Franklin, commemorating his time as American minister to Paris in the 1770s, is on display. Another favorite, a pair of cups decorated with rebuses, or word and picture puzzles, delights visitors with their translations reading "she is ravishingly beautiful" and "and he possesses you."