Tanabata | The Japanese Star Festival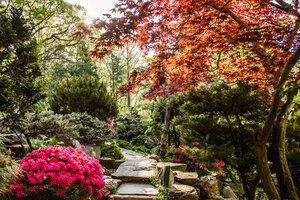 Tanabata, the Japanese Star Festival, celebrates the legend of Orihime, the weaver princess, and Hikoboshi, the herder. These lovers, separated by the Milky Way, are allowed to meet just once a year on the seventh day of the seventh month.
Enjoy a summer evening relaxing in Hillwood's spectacular gardens and take part in festive outdoor entertainment on Hillwood's expansive Lunar Lawn:
EVENT TIMELINE
5:30-7 p.m. | Explore Hillwood
7-8 p.m. | Concert by the Washington Toho Koto Society
PICNICKING INFORMATION
Picnicking is welcome at this event. Please note our liquor license does not allow patrons to bring in outside alcohol.
Please bring your own picnic blankets or lawn chairs for seating on the lawn.
Food and drinks, including beer and wine, will be available from Merriweather To Go.
INCLEMENT WEATHER
If inclement weather forces us to cancel outdoor activities, the koto concert will be livestreamed via Zoom at 7 p.m. All registered participants will receive notice if the program has moved to livestream by 3 p.m. on Friday, July 7.

The program highlights Hillwood's Japanese-style garden and is presented in partnership with the Japan-America Society of Washington DC.
Tanabata | The Japanese Star Festival