Onsite Orchid Repotting Workshop
Is it time to repot your orchids? Regularly repotting orchids not only provides new nourishment and space to grow, but the opportunity to assess their health and treat anything that may be ailing your plants.
This program is sold out. Please call 202.686.5807 if you wish to join a wait list.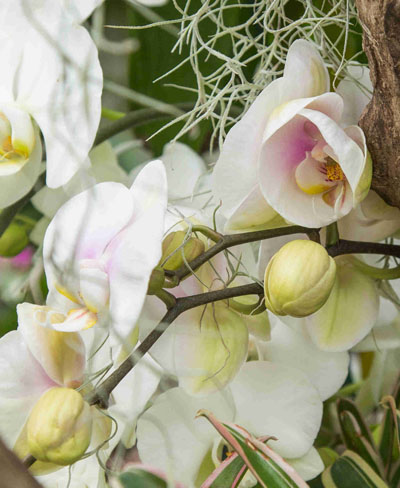 Bring an orchid or two from home and your plant will leave this hands-on workshop with a "good home." Plants will be repotted into basic plastic pots (included in the fee). You may bring a selection of fancy pots from your own collection if you prefer. Posts must have adequate drainage holes. if the weather is chilly, please cover your plant with a plastic bag to keep it warm.
This hands-on workshop teaches you how to care for and trim your plant's leaves and root system and identify the proper potting mediums and techniques from our experts.
All materials are included. Payment is required in advance and is non-refundable. This program is limited to six participants.
ABOUT THE PRESENTER
Drew Asbury (he/him) is Hillwood's horticulturist and volunteer manager. he joined Hillwood in 2012 and is responsible for the greenhouses, the cutting garden, and the horticulture volunteer program. Drew has worked professionally in the horticulture industry for nearly twenty years in a variety of positions including garden center sales, greenhouse growing, and landscape management and design. Drew graduated from the Longwood Gardens professional gardener training program in 2006 and completed a master's degree in sustainable garden design from The George Washington University in 2020.
Related Programs
Wed, Mar 1 - Fri, Mar 31 2023, All day
Marjorie Merriweather Post had a lifelong love affair with orchids, her favorite flower, investing significant resources into fueling this passion. Today, Hillwood's collection contains over 2,000
Onsite Orchid Repotting Workshop