Pavilion
Every great house requires a place for guests to retire for the evening's entertainment following a sumptuous meal. Marjorie Post built the pavilion to serve just this purpose.
A Taste of Russia
The pavilion's contents are largely Russian in origin. Flanking the entrance, elaborate dishes used for the Russian custom of greeting newcomers with bread and salt contribute to this space's dramatic function. A pair of Imperial Glassworks vases with the cipher of Nicholas II and the year 1911 in Cyrillic contribute to the Russian atmosphere. On top of the piano are photographs of Russia's last imperial family—Tsar Nicholas II, Tsarina Alexandra, and their children. Portraits of other emperors and empresses also look on from areas of the room.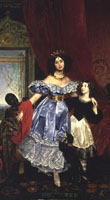 Two large-scale paintings dominate the pavilion. Together they reflect a major shift in Russia's artistic expression and national identity over the course of the nineteenth century. The Countess Samoilova, Her Foster Daughter, and a Black Servant by Karl Briullov, overflowing with rich textures and opulent colors, represents a time when Russia aspired to European tastes and values. In contrast, A Boyar Wedding Feast by Konstantin Makovsky embodies the Russian revival style that celebrated Russian culture prior to Peter the Great's emphasis of Westernization.
Fun-filled Evenings
Marjorie Post knew how to entertain. The pavilion often acted as a movie theater, showing first-run films on the two state-of-the-art (at the time) projectors housed in a booth behind the balcony. In 1970, Post hosted a dinner including a general, a baron, and the ambassador of the Soviet Union. The evening ended with a screening of Walt Disney's The Jungle Book. The sofas have pop-up trays for drinks and snacks, and the staff enjoyed these movies from the balcony.
Dancing was a major part of Post's life. This tradition continued at Hillwood. On a regular basis, all the furniture was removed and square and round dances were held. To protect the antique English wood floor, her staff provided rubber tips for the women's high-heeled shoes.