Kristine Mays: Rich Soil
-
Life-size sculptures transform the grounds of Hillwood for the second ever installation of art in the gardens.
Contemporary American artist Kristine Mays's life-size, three-dimensional dancing wire sculpture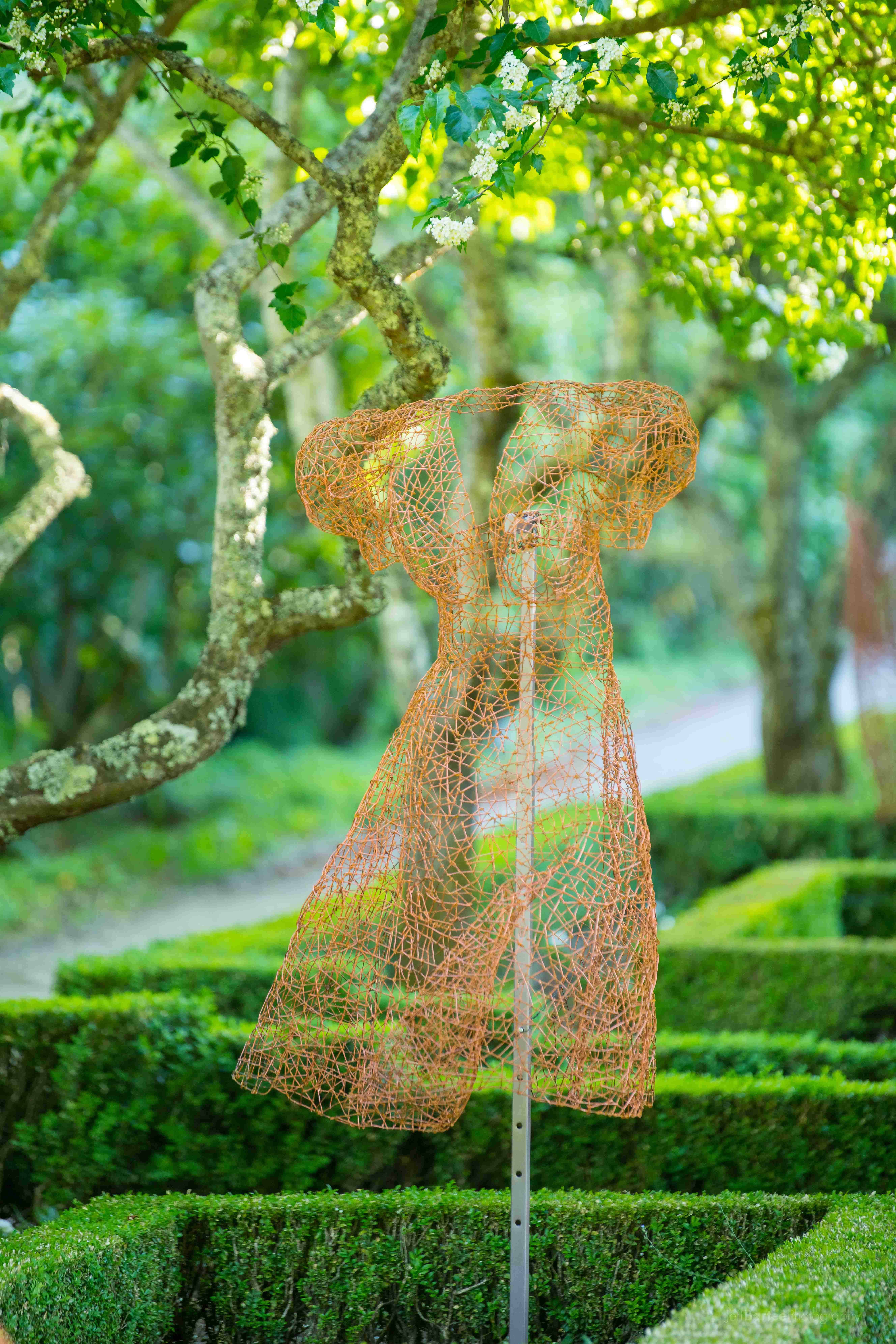 s will emerge throughout the gardens for the special exhibition Rich Soil, on view from June 26, 2021 through January 9, 2022. 
Mays breathes life into wire, transforming an industrial product into fascinating and moving works of art. Springing to life throughout the 13 acres of formal gardens, 29 sculptures will surprise visitors as they dance throughout the garden beds, bursting forth from the plant life. "My hope is that the figures will spring forth like spirits rising from the soil, to be recognized, revered and embraced," Mays has explained. "May they push through while at the same time mingling and dancing among the flowers. Both plants and human beings come and go—reverberating within the cycles of life."
The exhibition is next in a series of collaborations with contemporary artists, such as Vladimir Kanevsky in 2021, Bouke de Vries in 2019, Philip Haas in 2016, and Isabel de Borchgrave in 2013. 
About the Artist
Kristine Mays is an American artist currently living and working in San Francisco, California. Independently trained, and a self-described maker for her entire life, she began crafting with wire in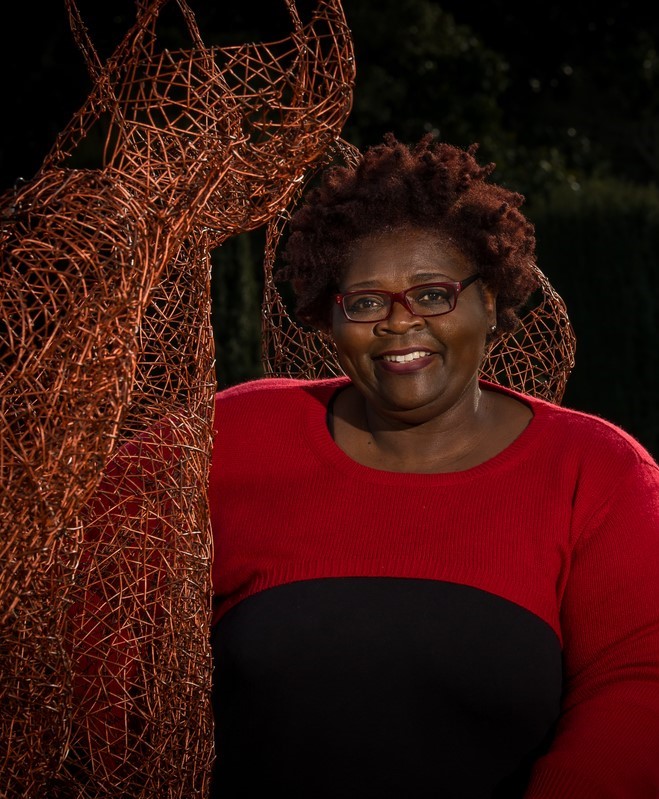 1993, after years of drawing, sketching, sewing, and bead work. Of her current work, Mays says, "I am honored and humbled that I can spend my life creating artwork." 
Mays seeks to create changes with her art, raising thousands of dollars for AIDS research through the sale of her work and collaborating with organizations such as Visual Aid, the San Francisco Alliance Health Project, WE-Actx, and ArtSpan. She has participated in programming at the De Young Museum, the Museum of African Diaspora (MoAD), and exhibited at the California African American Museum (CAAM) and at Filoli Historic House and Garden. Mays is represented by Adler & Co. in the San Francisco Bay Area of California, the Richard Beavers Gallery in Brooklyn, New York, and Zenith Gallery in Washington, D.C. Collectors of her work include George Lucas and the collector Peggy Cooper Cafritz, with her work also displayed in many Bay Area homes and private collections throughout the United States.
Rich Soil at Hillwood
Marjorie Merriweather Post maintained a lifelong love of dance, particularly the paso doble and the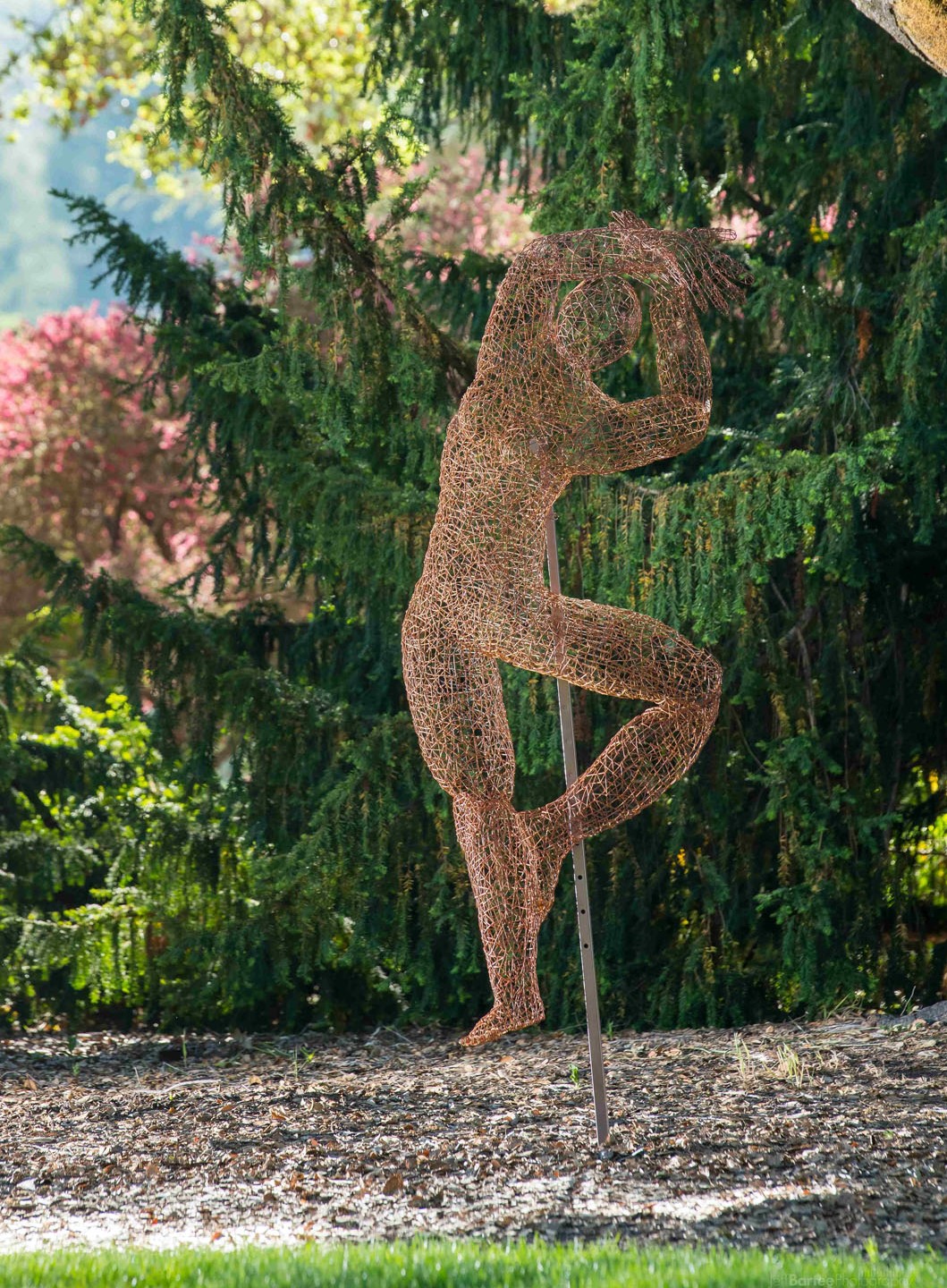 tango, often hosting dances in the pavilion at Hillwood after dinner parties. She remained a dedicated patron of the Washington Ballet and American Ballet Theater, in addition to serving as vice president of the Washington Ballet Guild. Given this history, it is fitting that Rich Soil finds a home at Hillwood, continuing this connection to bodily movement and expression. 
Rich Soil, Mays's first ever outdoor exhibition, originally displayed at Filoli Historic House and Garden, explores the dance between life and death, as the pieces interact with the land, and draw inspiration from the movement of Alvin Ailey's dance composition, "Revelation." The sculptures do not speak to any one form of dance but rather to an overall sense of movement, as Mays tries to "bring out a human form through the wire to capture a gesture." Rich Soil pays honor to the ancestors—those that walked, lived on, and tended to this land—to the lives that have been recognized and those that have been "forgotten." These forms deliver a message of strength while challenging how we view ourselves and others; though they look fragile and soft, they are solid and strong. Within the confines of hard metal wire is a sense of resilience and perseverance—a need to push forward and thrive. The work also speaks to identity—the question of who we are and what we can do with our lives, the impact our lives have on the world.
Sponsors
Kristine Mays: Rich Soil is supported by The Marjorie Merriweather Post Foundation, Ellen MacNeille Charles, Ms. Nedenia Rumbough and Mr. Jan Roosenburg, Dr. Catherine M. Chura, Mr. and Mrs. Jackson Goodwin Bennett, Kathryn Vigé Hicks and Peter J. Hicks, Nancy and CG Appleby, Linda and Bill Goldman, Kate and Bunky Markert, Alison Cady Martin, Amy and Marc Meadows, Dr. and Mrs. Michael J. Petite, and Gail Berry West. All exhibitions and programs are funded in part by the U.S. Commission of Fine Arts through the National Capital Arts and Cultural Affairs program. This project is supported by the DC Commission on the Arts and Humanities.