French Drawing Room
Immerse yourself in this sumptuous room, resplendent with Beauvais tapestries, Sèvres porcelain, glistening gold boxes, and Gobelin tapestry upholstered chairs, and imagine you're beginning an elegant evening at Hillwood among some of Marjorie Post's distinguished guests—from diplomats and politicians—no bipartisan bickering thwarted the proper dinner parties at Post's home—to Post family and friends, and members of the Washington social set. 
Many of these famous guests are pictured in photographs on the grand piano. The fresh floral arrangements conform to Post's wishes to grace and enliven her mansion in perpetuity.
Fit for a Queen
Look around and discover that the painted and gilt wood paneling—brought in from a Parisian mansion dating to King Louis XVI (1774-1792)—is a majestic backdrop for this celebration of Post's passion for French royalty and aristocracy.
Among the gems de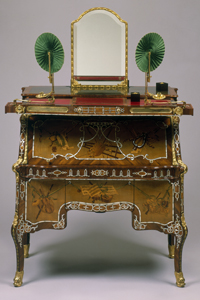 monstrating the royal connections that characterize much of Hillwood's French collection is an intricate roll-top desk crafted by the renowned father and son team of Abraham and David Roentgen. Featuring beautiful designs and extraordinary craftsmanship, this intricate piece was probably commissioned for Maria Antonia, Princess of Bavaria and Electress of Saxony, a patron of the arts and a renown composer in her own right. 
There is a confirmed link to Marie Antoinette, Queen of France, in the gilt wood and leather swivel chair that sits nearby. Made by one of the most famous dynasties of Parisian chairmakers, it bears the stamp of the garde meuble de la reine, the office in charge of supplying furnishings for her apartments. The low back and swivel seat would have facilitated the powdering of her royal hair.
Looking on from either side of this elegant room are paintings of three more royal ladies. To the right of the entrance, royal portrait painter Jean-Marc Nattier captures the essence of Louise Elizabeth, Louis XV's daughter and Duchess of Parma, with her daughter Isabelle. To the left sits the serene Empress Eugénie, the fashionable wife of Napoleon III.
Step Outside
The French drawing room was one of several spaces designed to connect harmoniously with the gardens just beyond its walls. In nice weather, the double doors of the grand French room would be opened to allow a seamless flow to the French garden room outside.