Surtouts, Tureens, and Salt and Pepper Shaker sets: Table Decoration, Then and Now
The centerpiece, or surtout de table in French, has always been the most elaborate decoration of a formal table setting. Often crafted in precious metals or ceramics it may take different shapes and forms. Several pieces may be included, such as vases, candelabras, and figurines.
This lecture will explore the traditions of table settings in Western European and Russian cultures, in particular the use of centerpieces.
Event Timeline
5:30-6:30 p.m.: Mansion and The Artistic Table open for self-guided touring
6:30-7:30 p.m.: Lecture
About the Speaker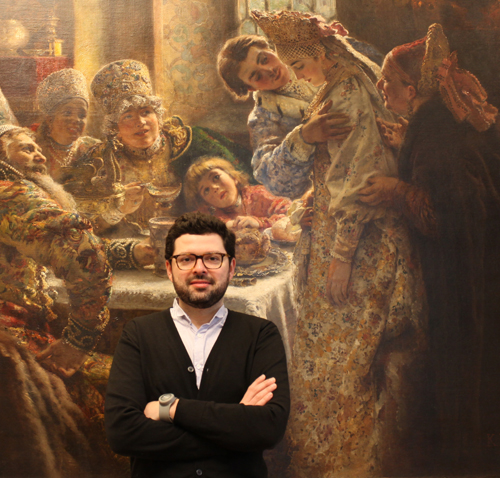 Dr. Wilfried Zeisler is Hillwood's chief curator. He is a graduate of Sorbonne University and the Ecole du Louvre, Paris. Wilfried has written extensively on French and Russian decorative arts, including a 2010 book on ceramics and several articles. Wilfried's dissertation, L'Objet d'art et de luxe français en Russie (1881-1917) [French Objets d'art and Luxury Goods in Russia], was published in Paris in 2014. Between 2009 and 2011, he has participated in and curated exhibitions in Paris and Monaco.
At Hillwood, he has curated Splendor and Surprise: Elegant Containers, Antique to Modern (2015),  Konstantin Makovsky: The Tsar's Painter (2016) and contributed to Friends and Fashion: An American Diplomat in 1820s Russia (2017) and The Artistic Table (2018). Wilfried co-authored Konstantin Makovsky: The Tsar's Painter in America and Paris (2015). He is currently working on a book on Hillwood's Fabergé collection that will accompany the Fabergé Rediscovered exhibition in June 2018.
About the Artistic Table Lecture Series
Take inspiration from the finest table settings and enjoy a feast for the eyes.
Wednesday, April 4: The Diplomatic Table: Blair House Welcomes the World, with Candace Shireman
Rescheduled: Wednesday, April 11: Surtouts, Tureens, and Salt and Pepper Shaker Sets: Table Decoration, Then and Now, with Wilfried Zeisler
Wednesday, April 18: Art of the Table: Floral Design for Entertaining, with Cathy Graham
Surtouts, Tureens, and Salt and Pepper Shaker sets: Table Decoration, Then and Now