Kids Euro Festival: Alexander's Mermaid and the Ship of Kyrenia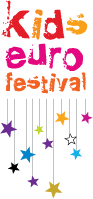 What would you do if your sister was suddenly turned into a mermaid? The legendary Alexander the Great — an army general who ruled a large empire a long time ago — couldn't stop the Greek gods from making his sister Salonika half-human, half-fish! After her brother died, Salonika roamed the seas, wrecking the ships of many sailors — and you can learn about the most famous of them all, the ancient ship of Kyrenia that sailed from Cyprus to Tyre!
Representing the country of Cyprus in the Kids Euro Festival storyteller Glafkos Cariolou will take families on an adventure on the high seas as he tells the dramatic tale of the ancient ship of Kyrenia.
Kids Euro Festival: Alexander's Mermaid and the Ship of Kyrenia