Onsite Wreath Workshop
Create a traditional, one-of-a-kind holiday decoration of hearty evergreens to enliven your home at this in-person workshop hosted in Hillwood's courtyard tent.
Your finished wreath will be approximately sixteen to eighteen inches wide and can be hung indoors or out.
All materials are included. Payment is required in advance and is non-refundable. This program is limited to ten participants.
All workshops have sold out. 
IN-PERSON PROGRAM GUIDELINES
Proof of full vaccination against COVID-19 is required to attend this onsite program at Hillwood. Patrons must display a physical or digital copy of their vaccination card/record and a government-issued ID, such as a driver's license with the same name upon arrival at the program. Ticket purchasers are responsible for communicating these rules to whomever they provide tickets. The vaccine requirement also applies to staff and volunteers.
Click here to see how Hillwood is following the latest health and safety guidance. Face masks are required for all participants, regardless of vaccination status during this intimate workshop. 
ABOUT THE INSTRUCTOR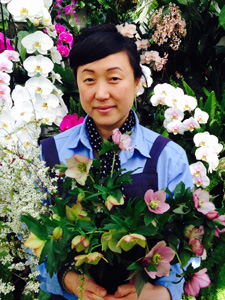 Ami Wilber has been the floral and event décor designer at Hillwood since November 2016. Ami has over twenty-five years of experience as a floral designer. She received a bachelor's degree in fine art from Miami University of Ohio and a master's of fine arts from the Rochester Institute of Technology, School for American Crafts. Prior to joining Hillwood, Ami created sculptures and exhibited her installations at galleries and public spaces in Washington, DC.
Related Programs
Tue, Nov 23 2021 - Sun, Jan 9 2022, All day
Onsite Wreath Workshop