Tony Duquette's Dawnridge
This is the first program in the Great Homes and Gardens lecture series.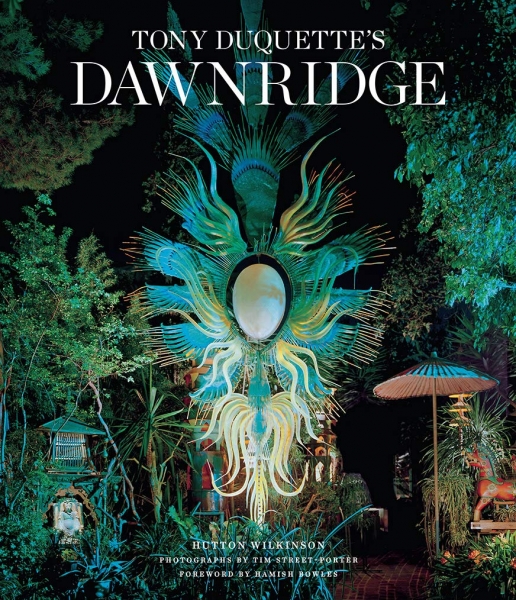 Explore the legendary home of designer Tony Duquette, Dawnridge. Located in Beverly Hills, it is one of the most creatively designed private homes in America. Built in 1949 by Duquette and his wife, Elizabeth, the original structure was a modest thirty foot-square box. This lavishly illustrated talk features the home's original rooms and modern reincarnation under Duquette's successor, Hutton Wilkinson. Since 1999, he has breathed new life into the estate, broadening the property, adding houses of his own design, and incorporating remarkable objects designed and created by the Duquettes.
EVENT TIMELINE
5:30-6:30 p.m. | Mansion and greenhouse open for self-guided touring.
6-6:30 p.m. | Members-only wine and cheese reception. Join today!
6:30-7:30 p.m. | Lecture
7:30 p.m. | Book signing. Tony Duquette's Dawnridge is available in the museum shop.
ABOUT THE SPEAKER
Los Angeles native Hutton Wilkinson grew up in his father and grandfather's architectural offices. At the age of eighteen, he apprenticed with great American design icon Tony Duquette. He became a paid assistant, eventually starting his own design firm, but always worked closely with Duquette. 
In 1998, the pair launched a collection of one-of-a-kind fine jewelry. Following Duquette's death in 1999, Wilkinson became owner, creative director, and president of Tony Duquette, Inc.  He designs lines of jewelry for Saks Fifth Avenue, home furnishings for Baker Furniture, textiles for Jim Thompson Thai Silk, lighting with Remains Lighting, carpets and tapestries with Patterson-Flynn-Martin, and dishes and tabletop accessories with Mottahedeh.
His residential and commercial interiors have appeared, along with his one-of-a-kind precious jewelry, in shelter and fashion magazines including Vogue, Harper's Bazaar, Town & Country, Elle, Veranda, and The New York Times.
Wilkinson serves as is the president of the Elsie de Wolfe Foundation, dedicated to furthering the decorative arts in America, and the Anthony and Elizabeth Duquette Foundation For The Living Arts, which presents exhibitions of artistic, scientific, and educational value, and promotes and purchases the works of Tony Duquette.
He has written extensively about his friend, mentor and partner. His most recent book, Tony Duquette's Dawnridge is available in the museum shop.
ABOUT THE SERIES
Escape Washington's dreary February and immerse yourself the stories of extraordinary homes, lush gardens, and the people who brought them to life.
February 6 | Tony Duquette's Dawnridge with Hutton Wilkinson
February 11 | Beyond Gatsby: The Fabled Gardens of Long Island's Gold Coast with CeCe Haydock
February 18 | Madam Walker's Villa Lewaro with A'Leila Bundles
February 25 | The New Elegance: Designing Around the World with Timothy Corrigan
 
Tony Duquette's Dawnridge