The Elements of French Style
This program is the second part of the Great Homes and Gardens Series.
Inspired by Marjorie Post's passion for the decorative arts and gardens of 18th-century France, designer Timothy Corrigan will break down the elements of French style and will illustrate how they can be incorporated into any home, regardless of its structure, size or location.
Having owned and renovated four French national landmark châteaux, and decorated a number of private mansions, and pied à terres in Paris, Corrigan is well versed in French design. Come see how adding varying degrees of these elements can lend chic sophistication to any setting and how French design can be made warm and inviting.
Event Timeline
5:30-6:30 p.m.: Mansion open for self-guided touring
6-6:30 p.m.: Members-only wine-and-cheese reception
6:30-7:30 p.m.: Lecture
7:30 p.m.: Book Signing. An Invitation to Chateau Du Grand-Lucé: Decorating a Great French Country House is available in the Museum Shop
About the Speaker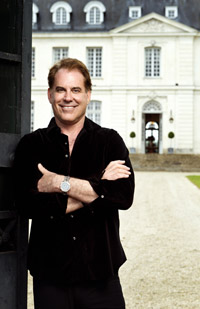 Timothy Corrigan is considered one of the leading interior designers in the world. With offices in Los Angeles and Paris, his firm has completed projects in Europe, the Middle East and across the United States. His work has been featured in over 1,000 publications, and twenty-five countries. Timothy has been honored by design centers around the world, and has been named to multiple top designer lists, including the 2017 Design Icon Award, the AD100, Star of Design, Robb Report's Top 40 Designers in the World and the Luxe Gold List. He was the first American designer honored by the French Heritage Society for his restoration of several national landmarks in France. Timothy has designed successful licensed collections with several partners, including Schumacher, Royal Limoges and THG Paris, and has upcoming collections for Samuel & Sons and Fromental. His best selling book, An Invitation to Chateau du Grand-Lucé, chronicles the restoration of his landmark chateau in France. Timothy is currently working on his next book to be published by Rizzoli.
About the Great Homes and Gardens Series
Escape the cold Washington winter and immerse yourself in the stories of luscious garden estates.
Tuesday, February 6: Marshall Watson, From the Inside Looking Out: A Dirt Gardener's Journey to Elegance
Thursday, February 15: Timothy Corrigan, The Elements of French Style
Tuesday, February 20: Alex Papachristidis, A Family Country Home
Wednesday, February 28: Barry Dixon, Looking Outside to See Our Way Inside
The Elements of French Style