Archives and Special Collections
Archives and Special Collections
The archives and special collections department is located in Hillwood's Collections & Research Center, below the visitor center parking deck. Its research library contains approximately 38,000 items that consist primarily of monographs, auction catalogs, rare antiquarian materials, Marjorie Merriweather Post's personal book collections, periodicals, and vertical files. The library also provides access to a variety of electronic resources, including select JSTOR and ProQuest research databases and journals. The Hillwood archives preserves invaluable primary and secondary source material on the life of Marjorie Merriweather Post, the creation of Hillwood as a residence, and the works of Hillwood as a museum. Materials from the Hillwood archives are often used for exhibitions, publications, programming, and various external research projects.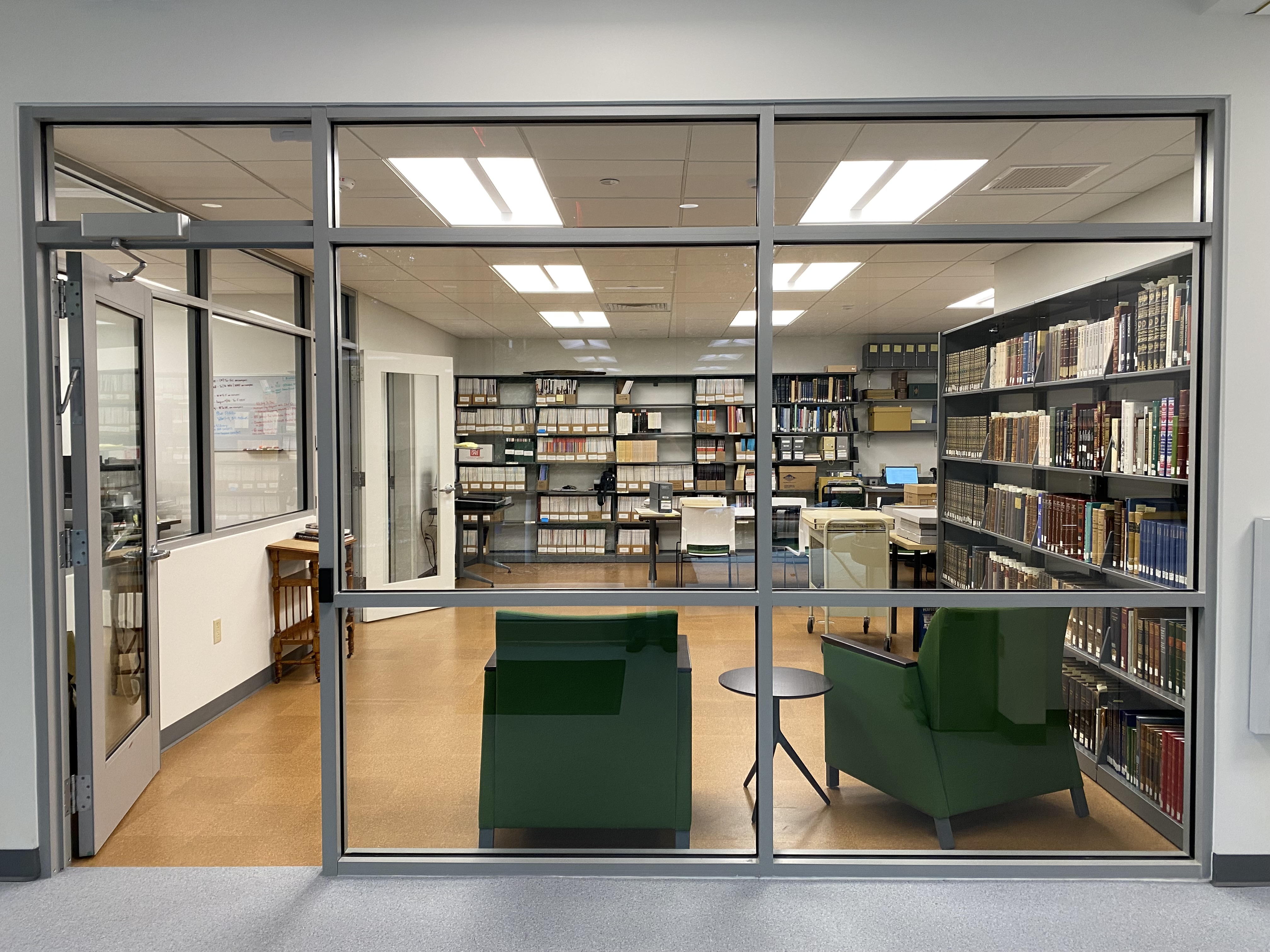 The Research Library
The library's holdings reflect Hillwood's collections, with rare and contemporary volumes covering Russian Imperial history and art, as well as 18th-century French decorative arts. There are also significant holdings on Fabergé, porcelain, fashion and apparel, jewelry, hardstones, precious metals, tapestries, furniture, and religious iconography and vestments. There are additional collections on topics that reflect other significant interests in Marjorie Merriweather Post's life, including American art, the British royal family, Washington, D.C. social history, country homes, landscape gardening and architecture, music, theater, and dance. 
Hillwood's library catalog, which runs on the open-source platform Koha, is available publicly on the web at library.hillwoodmuseum.org.
Visiting Archives and Special Collections
Researchers are invited to call 202.243.3953 and make an appointment to visit the archives and special collections. Advance appointments allow our staff to thoroughly investigate your research topic in order to gather all of the appropriate resources to make your visit as productive and profitable as possible. Email inquiries can be made to jspeck@hillwoodmuseum.org.
Hillwood's collections are non-circulating. Select materials may be loaned on a case-by-case basis through the interlibrary loan systems available in public, special, and academic libraries. The library abides by the interlibrary loan guidelines of the American Library Association.
Technology and Sustainability
To support Hillwood's environmental sustainability goals, archives and special collections does not provide printed photocopies to researches. Patrons may bring and use a camera without flash to keep images for their personal research use only.
Technology available for patron use:
ZeutschelZeta overhead book scanner
STimaging ViewScan 4 digital microfilm reader
We also provide options for in-house digitization if high-resolution copies are required. Contact Kendall Aughenbaugh, digital initiatives librarian, at kaughenbaugh@hillwoodmuseum.org.
Copyright
Archives and special collections does not hold copyright over all of the materials in its collections. Patrons are responsible for determining whether they need to seek permission to publish materials from these collections, and for securing that permission from the appropriate copyright holder.