Kids Euro Festival: How Do Actors Play?
In this workshop for families, Louis Lovett and Muireann Ahern--joint artistic directors of Ireland's famed Theatre Lovett--take you through the actor's onstage journey: how to seize the moment you're in, how to look forward to the moment coming next, and how to look back--to the moments of mischievous play that children understand and that adults can remember and learn from.  Recommended for ages 7+.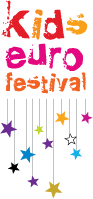 Presented as part of the Kids Euro Festival, a month-long festival of free family events and performances throughout Washington, DC, presented by European Union members and local arts organizations.
After the performance, explore treasures from around the world in Hillwood's mansion.
Kids Euro Festival: How Do Actors Play?