Grace Kelly: Icon of Style to Royal Bride
This is the first program in the Grace of Monaco: Princess in Dior lecture series.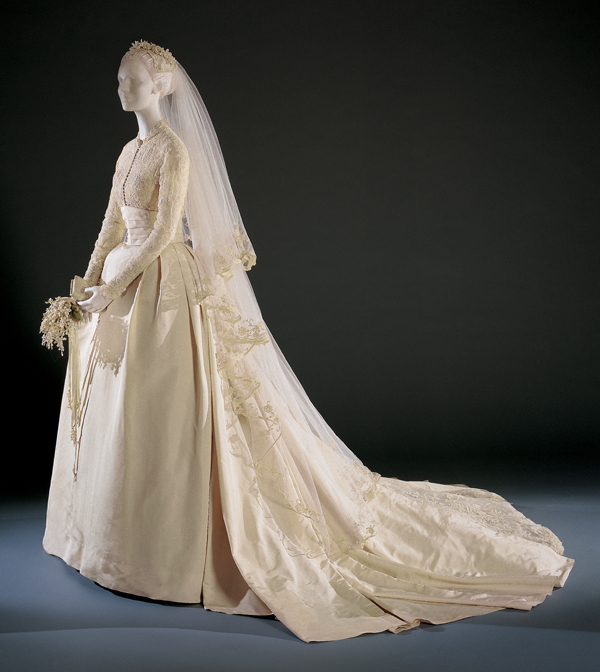 As Philadelphia-born Grace Kelly shot to Hollywood stardom in the mid-1950s, she also became a fashion leader, acclaimed for her understated style that united good taste with glamour. The young actress perfectly epitomized the ladylike ideal of the time, inspiring the Grace Kelly Look and earning a place on the Best-Dressed List. Her surprise engagement to Prince Rainier of Monaco in 1956 focused further attention on her wardrobe, especially on the dress for her "fairy-tale" wedding. Designed by Helen Rose and created at MGM, her magnificent yet simple bridal gown continues to serve as the ultimate exemplar of bridal elegance.
HYBRID PROGRAM
This lecture will be presented in the theater in the Ellen MacNeille Charles Visitor Center, and will be livestreamed via Zoom. Visitors can submit questions for the speaker from any location. 
Proof of full vaccination against COVID-19 is required to attend this onsite program at Hillwood. Patrons must display a physical or digital copy of their vaccination card/record and a government-issued ID, such as a driver's license with the same name upon arrival at the program. Ticket purchasers are responsible for communicating these rules to whomever they provide tickets. The vaccine requirement also applies to speakers and staff.
Click here to see how Hillwood is following the latest health and safety guidance.
IN-PERSON TIMELINE
5:30–6:30 p.m. | Explore Hillwood
•    Enjoy the mansion, gardens, greenhouse, and Grace of Monaco: Princess in Dior  
•    Find the perfect memento from your visit at the museum shop
6-6:30 p.m. | Members-only wine and cheese reception. Join today!
6:30–7:30 p.m. | Lecture 
 
ABOUT THE SPEAKER
Kristina Haugland (she/her) is the Le Vine Associate Curator of Costume and Textiles and Supervising Curator for the Study Room at the Philadelphia Museum of Art. She has curated numerous exhibitions on diverse topics, including the 2006 celebration of the 50th anniversary of Princess Grace's wedding, and is the author of Grace Kelly: Icon of Style to Royal Bride, published in 2006 by the Philadelphia Museum of Art and Yale University Press, and Grace Kelly Style, published in 2019 in conjunction with the Victoria and Albert Museum's exhibition. She also enjoys writing and lecturing on her special interests, underwear and etiquette.
ABOUT THE GRACE OF MONACO: PRINCESS IN DIOR LECTURE SERIES
Grace Kelly carefully cultivated her image in response to Hollywood's wish for glamour and the desire for elegance in her stately duties. Explore her image and gain insights to her enduring partnership with Marc Bohan, artistic director of Christian Dior in the 1960s and 1970s, in this four-part lecture series.
Visitors can attend and ask questions whether they choose to come in person or join the livestream from the comfort of home; questions will be taken from all locations. (Please note: The October 18 lecture is presented live via Zoom; there is no in-person program.) 
Thursday, October 6: Grace Kelly: Icon of Style to Royal Bride with Kristina Haugland
Thursday, October 13: Christian Dior: Couture for Modern Living with Alexandra Palmer
Tuesday, October 18: Livestream Lecture: Conversation with Curators | Grace of Monaco: Princess in Dior with Florence Müller and Megan Martinelli
Tuesday, October 25: Jay Jaxon: An Unsung Couturier with Darnell-Jamal Lisby
Photo credit: Grace Kelly's Wedding Dress and Accessories designed by Helen Rose, 1956, Philadelphia Museum of Art, Gift of Her Serene Highness the Princesse Grace de Monaco, 1956-51-1a--d—4. 
Related Programs
Thu, Oct 6 - Tue, Oct 25 2022, All day
Grace Kelly carefully cultivated her image in response to Hollywood's wish for glamour and the desire for elegance in her stately duties. Explore her image and gain insights to her enduring
Grace Kelly: Icon of Style to Royal Bride