Second Floor Hall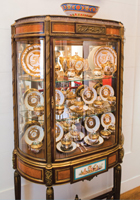 This transitional space between public and private holds exciting discoveries for the enterprising visitor. Outside the bedroom suites, a microcosm of Marjorie Post's collection, with stunning examples of French, Russian, and English decorative arts intermingling with Old Master paintings, adorns the way.
At the top of the stairs sits a display case containing English painted enamels. A less expensive alternative to gilded containers, these items were popular with the wealthy throughout eighteenth- and nineteenth-century Europe. Russian porcelain, including the Catherine the Great commissioned Orlov Service, is also carefully arranged throughout the open balcony area. 
On the way to the Post bedroom suite, a large portrait of Post and her daughter Nedenia Hutton (actress Dina Merrill) by Giulio de Blaas hangs on the wall. Post wears a large Cartier emerald brooch still in the Hillwood collection that is often displayed in the special jewelry area of the closets. An exceptional portrait by George Romney of Mrs. Thomas Heron hangs directly opposite while Marguérite Gérard's L'enfant Chéri is displayed further down the hall.