Haute Couture Chrysanthemum Virtual Floral Design
"For you to have complete satisfaction from flowers you must have time to spend with them." —Grace Kelly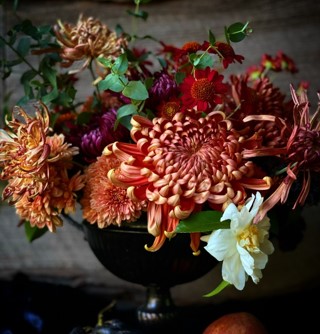 In this workshop we will elevate chrysanthemums, spend time rethinking how we look at these blooms, and create a floral arrangement fit for Grace Kelly.  
Ami Wilber helps you create a beautiful arrangement with step-by-step guidance and plenty of time to ask questions. Supplies are not included, but a materials list is included below, should participants wish to follow along at home. 
OPTIONAL MATERIALS FEE
For an additional fee of $65, participants will receive all necessary materials, including flowers, greenery and a container. Exact supplies may vary based on availability due to coronavirus-related supply chain issues. Participants will also need water and floral shears or scissors. Materials are limited to twenty.
Blooms: 5-7 stems of each 

Copper pompon mums
Gold spider mums
Bronze spider mums
Gold pompon mums
Deep red mums

Greens: 1 bunch
Other Floral Materials:

Gold footed glass vase, 10" x 5.5"
Chicken wire to secure stems, 9"x12"
Floral tape
Floral snips (Ami is fond of Saboten model 1210)
Interested participants must pre-order their materials by 5 p.m. on October 19, and collect them from Hillwood the morning of the program. Contact-free pickup is available between 10 a.m. and noon on October 21. If you have purchased materials from Hillwood in the past, please consider returning old flower buckets when you collect supplies.
CONNECTING WITH ZOOM
This virtual workshop begins at 1:30 p.m. and is presented live via Zoom. Participants are encouraged to share their arrangements when complete via video; questions can be submitted via the chat feature. Please note that this workshop will be recorded.
Registered participants will be emailed a link to join this Zoom program. To get started, please download Zoom on your chosen device and explore the Frequently Asked Questions. 
ABOUT THE INSTRUCTOR
Ami Wilber became the floral and event décor designer at Hillwood in November 2016. Ami has over twenty-five years of experience as a floral designer. She received a bachelor's degree in fine art from Miami University of Ohio and a Master's of Fine Arts from the Rochester Institute of Technology, School for American Crafts. Prior to joining Hillwood, Ami created sculptures and exhibited her installations at galleries and public spaces in Washington, D.C.
 
Haute Couture Chrysanthemum Virtual Floral Design