Fabergé in St. Petersburg
The history of the House of Fabergé is inseparable from the city of St. Petersburg. Only the internationally connected capital of a multicultural empire could serve as the birthplace of this firm. In the wake of the October 1917 Revolution, practically nothing remained of St. Petersburg's former imperial lifestyle, and it seemed that the House of Fabergé disappeared from the city for good.  In 2013, Fabergé returned to St. Petersburg when the private Fabergé Museum opened in the historic city center. Director Mikhail Ovchinnikov shares an overview of the museum, its collection, and the history that connects it to St. Petersburg.
Timeline
5:30-6:30 p.m.: Self-guided touring of the Mansion and The Tsar's Painter 
6:30-7:30 p.m.: Lecture (Doors to the theater open at 6:15)
About the Speaker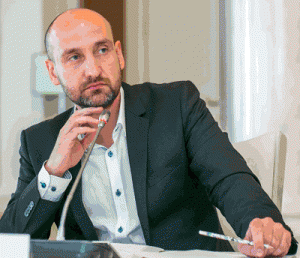 Mikhail Ovchinnikov is the first deputy director of the Fabergé Museum and director of The Link of Times Foundation branch in St. Petersburg. He previously worked in the field of modern and contemporary Russian art. His positions included the director of Erarta Museum of Contemporary Art, deputy director of St. Petersburg Union of Artists and curator in the Avant-garde on Neva Publishing and Exhibition Project. His current memberships include Public Council of Museum of Central Bank of Russian Federation and International Jury of the Portrait Now! competition, run by the Museum of National History of Denmark. 
Fabergé in St. Petersburg