Rasputin
A hundred years after his murder, Rasputin continues to excite the popular imagination as the personification of evil. Numerous biographies, novels, and films recount his mysterious rise to power as Nicholas and Alexandra's confidant and the guardian of the sickly heir to the Russian throne. His debauchery and sinister political influence are the stuff of legend, and the downfall of the Romanov dynasty was laid at his feet.
But as the prizewinning historian Douglas Smith shows in his definitive new biography, the true story of Rasputin's life and death has remained shrouded in myth. A major new work that combines probing scholarship and powerful storytelling, Rasputin separates fact from fiction to reveal the real life of one of history's most alluring figures. Drawing on a wealth of forgotten documents from archives in seven countries, Smith presents Rasputin in all his complexity--man of God, voice of peace, loyal subject, adulterer, drunkard. Rasputin is not just a definitive biography of an extraordinary and legendary man but a fascinating portrait of the twilight of imperial Russia as it lurched toward catastrophe.
Douglas Smith will share his new findings with the Hillwood audience in this lecture accompanied with some of the remarkable images he collected during his research. Hear a teaser from the author in this YouTube video.
Timeline
5:30-6:30 p.m.: Mansion and Deco Japan open for touring
6:30-7:30 p.m.: Lecture
Douglas Smith will sign books before and after the lecture. Rasputin is available for purchase in the Museum Shop
About the Speaker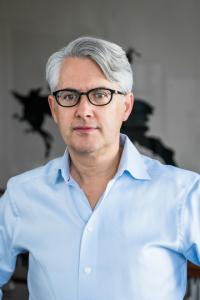 An award-winning historian and translator, Douglas Smith is the author of four books on Russia. His works have been translated into a dozen languages. He studied German and Russian at the University of Vermont and has a doctorate in history from UCLA.
Over the past thirty years Smith has made many trips to Russia. In the 1980s, he was a Russian-speaking guide on the U. S. State Department's exhibition "Information USA" that traveled throughout the USSR. He has worked as a Soviet affairs analyst at Radio Free Europe/Radio Liberty in Munich, Germany specializing in Russian nationalism and served as an interpreter for late President Reagan.
Smith has taught and lectured widely in the United States, Britain, and Europe and has appeared in documentaries for A&E, National Geographic, and the BBC. This will be his fourth lecture at Hillwood. He is the recipient of numerous awards and distinctions, including a Fulbright scholarship and a residency at the Rockefeller Foundation's Bellagio Study Center.
His latest book, Former People: The Final Days of the Russian Aristocracy, was published in 2012 with Farrar, Straus and Giroux in the U.S. and Macmillan in the U.K. Former People won the Pushkin House Russian Book Prize in 2013 and was chosen Book of the Year by Andrew Solomon in Salon.
Douglas Smith's biography of Grigory Rasputin will be published in November 2016 in the US and UK.
Rasputin