Spectacular: The Merriweather Post Collection of Gems and Jewelry
Supported by stunning visuals, Executive Director Kate Markert provides new insights into Post's unique collection through pieces from world-renowned firms such as Cartier, Van Cleef & Arpels, and Harry Winston, chic jewels from boutique firms David Webb and Verdura as well as an impressive ensemble of historical pieces, among them the Empress Marie Louise diadem and the earrings reputedly worn by Marie Antoinette on the eve of the French Revolution.
The companion publication, Spectacular: The Merriweather Post Collection of Gems and Jewelry, is available for purchase from the Museum Shop.
 
Event Timeline
5:30-6:30 p.m.: Self-guided touring of the mansion and Spectacular  
6-6:30 p.m.: Members-only wine-and-cheese reception. Join today!
6:30-7:30 p.m.: Lecture
7:30 p.m.: Book Signing. Spectacular is available for purchase in the Museum Shop.
About the Speaker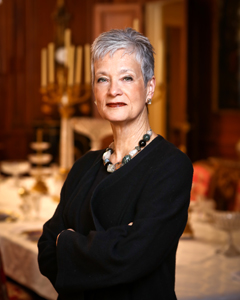 Kate Markert is Executive Director of Hillwood Estate, Museum & Gardens, where as the result of a strategic planning process, a special exhibition program and revitalized gardens has spurred a 50 percent increase in attendance over 5 years and tripling of the membership. She has been Director of the Wadsworth Atheneum in Hartford Connecticut, Associate Director of the Walters Art Museum and Deputy Director and Acting Director of the Cleveland Museum of Art. Kate is co-author of The Manual of Strategic Planning for Museums, first published in 2007, as well as the revised and expanded edition, The Manual of Strategic Planning for Cultural Institutions, which will be published this spring. Kate holds a Master of Arts in Art History and a Master of Business Administration. Kate is on the Visiting Committee of Longwood Gardens and is a member of the Association of Art Museum Directors and Directors of Large Gardens.
Join us and explore centuries of appreciation of gems and jewelry in this fascinating four-part series. Learn about how they captivated diverse cultures through history and continue to enthrall contemporary audiences. Gain insights into what makes a stone great, revel in the glamour of jewelry design in the 1930s and 40s, and immerse yourself in the Merriweather Post collection, arguably one of the most impressive jewelry ensembles of the twentieth century.
Spectacular Gems and Jewelry from the Merriweather Post Collection was conceived of and organized by Hillwood's chief curator and director of collections, Liana Paredes, who also wrote the publication of the same name. Liana passed away at her home on March 16, 2017. 
Thursday, October 5: Spectacular: The Merriweather Post Collection of Gems and Jewelry by Kate Markert
Thursday, October 12: Smithsonian Gems by Jeffrey Post
Thursday, October 19: Hollywood Glamour: Jewelry from the Silver Screen by Emily Stohrer
Thursday, October 26: Contemporary Interest in Gems and Jewelry, a conversation with Aja Raden and Kate Markert
Spectacular: The Merriweather Post Collection of Gems and Jewelry