Pret-a-papier
-
Inspired by the rich history of fashion represented in European paintings, famous costumes in museum collections, and designs of the grand couturiers, Isabelle de Borchgrave has turned her passion for painting toward the recreation of elaborate costumes – crumpling, pleating, braiding, and painting the surface of simple rag paper to achieve the effect of textiles and create the illusion of haute couture.
Crumpled, pleated, and painted, ordinary paper becomes haute couture in the hands of the Belgian artist Isabelle de Borchgrave.
The Exhibition
By reconstructing dresses from key periods in fashion history, Prêt-à-Papier presents a range of styles from the late 17th to the early 20th century. Isabelle de Borchgrave deftly crafts a world of splendor in trompe l'oeil. Cutting, gluing, and painting with imagination and exceptional mastery, she creates the illusion of lace, brocade, delicate silk, and sumptuous embroidery.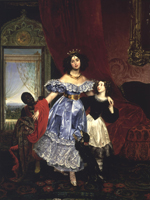 The sumptuous apparel of the royalty of the 18th and 19th centuries revered by Marjorie Merriweather Post, and depicted in the paintings and decorative arts she collected, take on an added dimension in the work of de Borchgrave. The costumes of Tsar Peter the Great and Empress Josephine, for example, come to life, with de Borchgrave's own intricate painting and manipulation of the paper convincingly mimicking the finest brocades, damasks, and silks. For the work commissioned by Hillwood, de Borchgrave draws inspiration from the life-like details, textures, and opulent colors of the main figure's dress in Karl Briullov's The Countess Samoilova. This  dress will be displayed in the Pavilion at Hillwood with the grand-scale painting that inspired it. 
The exhibition is located in Hillwood's Adirondack Building and also animates spaces in the Mansion, reinterpreting both the art objects and Post's extraordinary collection of 20th-century apparel.
The Artist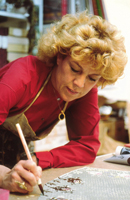 A painter by training and by passion, Isabelle de Borchgrave turned her talent for trompe l'oeil to the paper sculptures that reinterpret and recreate almost 300 years of fashion. With fashion historian, Rita Brown, she created Papiers à la Mode, a collection of costumes in paper and paint that offered a fresh look at fashion history. Her collections that followed included an immersive dive into the 19th century Venice-inspired line from Fortuny, a look at the famous figures of I Medici, and a study of the Ballet Russes, whose playful figures and saturated colors nod to her love of the Nabis movement. De Borchgrave's name is also readily associated with the world of design.
In the News
See what's being said about Prêt-à-Papier:
Free with suggested donation
Throughout the museum