Splendor and Surprise
-
Open up a world of treasures.
More than 80 remarkable boxes, coffers, chests, and other containers reveal the beautiful and unexpected ways that cultures have contained their most treasured items and everyday objects from the 17th through the 20th century.   
From reliquaries to jewelry safes to perfume bottles, the containers in which we put things have always been an important part of everyday life. Hillwood founder Marjorie Merriweather Post valued precious boxes and similar objects for their exquisite designs and historic associations. Along with additional loans, this exhibition comprises the most significant examples from the hundreds of decorative boxes that are in Hillwood's collection today. The forms and functions these objects have taken over time and their rich and often elaborate decoration illustrate the changes in both social practices and artistic development over three centuries in Russia and Western Europe. While most were made for specific uses, such as holding snuff or protecting important items, these finely crafted containers are also valued art objects in their own right, appreciated and collected through the centuries for their practical uses, beauty, and promise for holding treasures and surprises.
[embed]<iframe width="560" height="315" src="https://www.youtube.com/embed/cXTpzem4fW0&quot; frameborder="0" allowfullscreen></iframe>[/embed] 
Splendor at Hillwood
Marjorie Merriweather Post, who inherited her father's Postum Cereal Company and fortune in 1914, began collecting art in the 1920s, with a focus on French furniture and decorative art, in line with the trend of the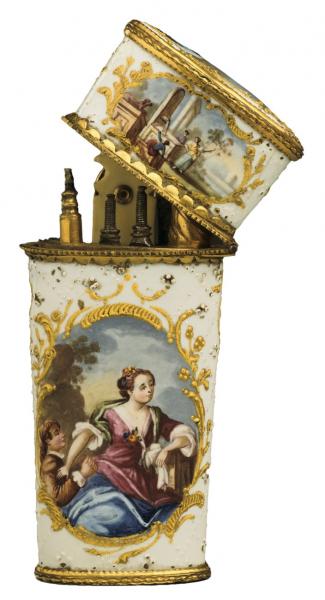 time. Post established herself as a cultivated and discerning collector and when she turned her attention to gold boxes she found they resonated with the criteria she established for collecting: objects had to have great beauty and design, be of extraordinary craftsmanship, and have historic or aristocratic provenances. The French pieces she bought in the 1920s form the core of the collection and she continued acquiring gold boxes throughout her life, including fascinating Russian examples and those made by the firm of Carl Fabergé and Cartier. 
Hillwood's exquisite collection of gold boxes, all beautiful and finely crafted, with many fascinating back stories, are the foundation for exploring the culture and history of boxes—both inside and out. For the first time, many of the objects on view in the exhibition will be opened for display to reveal the surprising interiors. Animated labels, opening the lid on some of the most intricate objects, will illustrate the inner workings and luxurious insides not typically available to viewers. Splendor and Surprise will be organized into seven sections, each exploring a different purpose that containers have served over time. 
In the Mansion
As they were when Post resided at Hillwood, hundreds of precious snuff boxes, presentation boxes, jewelry coffers, and other containers are on display throughout the mansion. Highlights include an 18th-century French jewel cabinet, French gold boxes, and the remarkable Roentgen rolltop desk in the French Drawing Room. In Post's bedroom, small but dramatic objects made of bloodstone call attention to this exotic dark green stone—deriving its name from the flecks of red inclusions—which was Post's birthstone and a favorite material for collecting.
Sponsors
The exhibition is supported by: The Marjorie Merriweather Post Foundation, Ellen MacNeille Charles, Kyra Cheremeteff and Thomas W. Richardson, Dina Merrill Hartley, and General and Mrs. Charles F. Wald.
All exhibitions and programs are funded in part by the U.S. Commission on the Fine Arts through the National Capital Arts and Cultural Affairs program.
Included in suggested donation