Museum - Location
4155 Linnean Avenue,
NW Washington, DC 20008
Call us: 202.686.5807
Museum - Hours
Tuesday-Sunday, 10 a.m. to 5 p.m.
Closed Mondays, some holidays, and for several weeks in January.
Explore the Estate
Image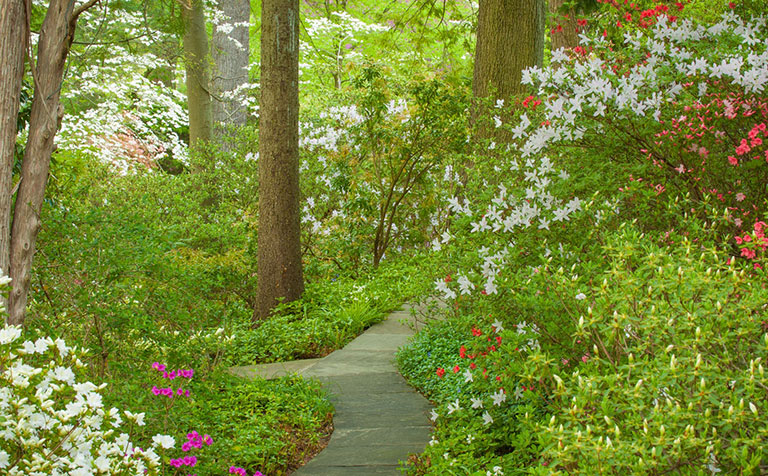 ­Estate
Marjorie Merriweather Post bought Hillwood in 1955 and soon decided her home would be a museum that would inspire and educate the public. Her northwest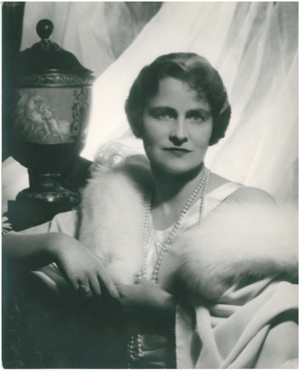 Washington, D.C. estate endowed the country with the most comprehensive collection of Russian imperial art outside of Russia, a distinguished eighteenth-century French decorative art collection, and twenty-five acres of serene landscaped gardens and natural woodlands for all to enjoy. Opened as a public institution in 1977, today Hillwood's allure stems from the equally fascinating parts that make up the whole. From the captivating life of Marjorie Post to the exquisitely maintained mansion and gardens, the experience of Hillwood outshines even the Fabergé eggs.
Marjorie Merriweather Post
That Marjorie Merriweather Post valued beauty, elegance, and graciousness in her life is apparent to all who experience the exquisite gardens, collections, and estate she left for the public's enjoyment. In all its splendor, Hillwood is the culmination of a lifetime in business, art collecting, philanthropy, and estate management that gave rise to her singular style and grace.
Developing Her Taste
Born in 1887 in Springfield, Illinois, Marjorie Merriweather Post was the only child of Ella Merriweather Post and Charles William (C.W.) Post, who founded the Post cereal empire. With her father's entrepreneurial spirit as inspiration, Post embraced her midwestern work ethic to become one of America's most successful businesswomen. When both of Post's parents died in the 1910s, she became, at the age of 27, the owner of the $20 million cereal company that would later become the General Foods Corporation.
It was in this second decade of the twentieth century when Post's taste for collecting was shaped. A young woman of great wealth living in New York, married to Edward Bennett Close and a mother of two, Post began to furnish her elegant new interiors according to the most current trends in design. She developed a preference for the arts of late eighteenth-century France, in particular the neoclassical style of Louis XVI—a style that was in vogue among New York's fashionable society. The elements of harmony, balance, delicate decoration, and superb craftsmanship that defined this period continued to guide Post's collecting taste for the rest of her life.
Sir Joseph Duveen
Few influences played a more critical role in the development of Post's collecting tastes than Sir Joseph Duveen. A British art dealer whose clients included Henry Clay Frick, J. P. Morgan, Andrew Mellon, and John D. Rockefeller, Duveen introduced Post to the arts and culture of eighteenth-century France. Though she avoided his enticements to develop a taste for the Old Masters, it is through Duveen that Post carved a niche for herself among the discerning collectors of European works of art through her purchases of furniture and tapestries. 
Frozen Peas to Fabergé
Post's second marriage was to financier Edward F. (E.F.) Hutton, with whom she had one child, and together they transformed the Post Cereal Company into General Foods, a pioneer in frozen and prepared foods. The Huttons epitomized the Roaring 20s lifestyle and Post grew ever more socially practiced, hosting a stream of charity and philanthropic events in New York and Palm Beach. She further refined her collecting tastes during the 1920s, turning her attention to the acquisition of fine Sèvres porcelain, outstanding examples of French furniture, and a collection of gold boxes that proclaimed her taste for the jeweled object and, later, Fabergé. In the 1920s Post built and decorated her legendary and multiple residences, including a fifty-four-room New York apartment; her Palm Beach estate, Mar-A-Lago; Camp Hutridge (later Topridge) in the Adirondacks; and her well-appointed four-masted yacht, which Post decorated to perfection.
In the 1930s Post accompanied her third husband, Joseph E. Davies, to the Soviet Union, where he served as ambassador. During these years, the Soviet government was nearing the end of its efforts to sell treasures it had seized from the church, the imperial family, and the aristocracy in an effort to finance the new government's industrialization plan. Exploring commission shops and state-run storerooms, Post discovered that the fine and decorative arts of imperial Russia appealed to her taste for finely crafted objects and ignited a new collecting passion and pioneering effort in the field of Russian art.
At Spaso House, the American embassy in Moscow, Post welcomed the role of diplomatic hostess and sharpened the skills that prepared her for the world of politics, diplomacy, and philanthropy that awaited her in Washington, D.C.
Life at Hillwood
Following her divorce from Davies in 1955, Post purchased Hillwood, which remained her Washington residence for the rest of her life. The mandate for her architects and designers was to refurbish the 1920s neo-Georgian house into a more stately dwelling that could function both as a well-staffed home and as a place to showcase her collections.
Post promptly became one of Washington's top hostesses and her legendary parties were inseparable from the political, business, and social fabric of Washington, D.C. With her full-time live-in and local staff, she organized memorable spring garden teas for hundreds of Washington guests, and invitations to formal dinners at Hillwood were highly-prized.
In addition to spending the spring and fall at Hillwood, Post maintained an estate in Palm Beach, Mar-A-Lago, where she spent the winter and a camp in the Adirondacks, Camp Topridge, where she entertained guests throughout the summer. Travel between these three diverse properties was facilitated by her well trained staff and private airplane, the Merriweather.
Post's patriotism and passion continued to guide her life of philanthropy at Hillwood. Crowning a fifty-year commitment to supporting American soldiers and veterans of war, in the 1960s and 1970s Post opened Hillwood to Vietnam veterans, including wounded Marines and Navy corpsmen from Bethesda Naval Hospital, and patients from Walter Reed Army Medical Center, for tea on the Lunar Lawn and live entertainment, allowing them an afternoon of respite and leisurely enjoyment. The effect of her generosity on Washington continues to be felt today. She gave generously and often anonymously and was active in group efforts to raise money for the Salvation Army, the American Red Cross, the National Symphony Orchestra, the Kennedy Center, and the Washington Ballet Guild, among many others—with Hillwood as her final and lasting legacy.