Climate Action
In September of 2020, Hillwood transitioned from purchasing electricity generated by coal to procuring only sustainably based wind power. With this simple yet powerful change, we eliminated hundreds of tons of carbon emissions that result from burning coal to produce electricity. Through we are not the only ones in D.C. that have taken the step to transition to 100% sustainable power, we are in a small but expanding group. Sustainable power generation is a growing industry, and we are happy and proud to be part of it and to support its use in D.C.
Partnerships and Awards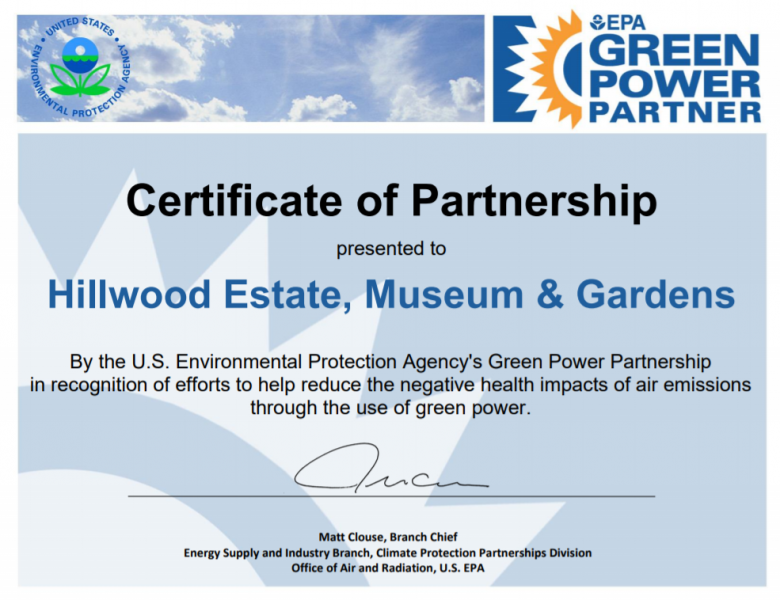 EPA Green Power Partner
Member of the Energy Star Small Business Network
Founding member of the Phipps Climate Toolkit
2020: DCSEU annual report case study
2019: First ever award of $30,000 through the District of Columbia Sustainability Energy Utility (DCSEU) Pay-4-Performance program
 
Ongoing Initiatives
Recycling of batteries, stationery, disposable gloves, florescent light bulbs, and electronic ballasts. These items are sent to certified recyclers for proper processing and reuse in other products. We have recently initiated a pilot program to study the viability of rechargeable technologies to further reduce the dependency of single use batteries. 

Teaming with TerraCycle and Bic to keep recyclable products out of landfills while generating funds to support charitable organizations throughout the country
Participating in an electronic waste recycling program. We are partnering with an organization that is committed to reusing electronics when applicable, donating usable computers and other peripherals to non-profit organizations, and recycling materials locally with no exports.

Implementing a replacement plan of conventional gas powered horticulture equipment with electric/battery-powered equipment
Installing Energy Star rated windows in office areas
Harvesting rainwater
 
Major Milestones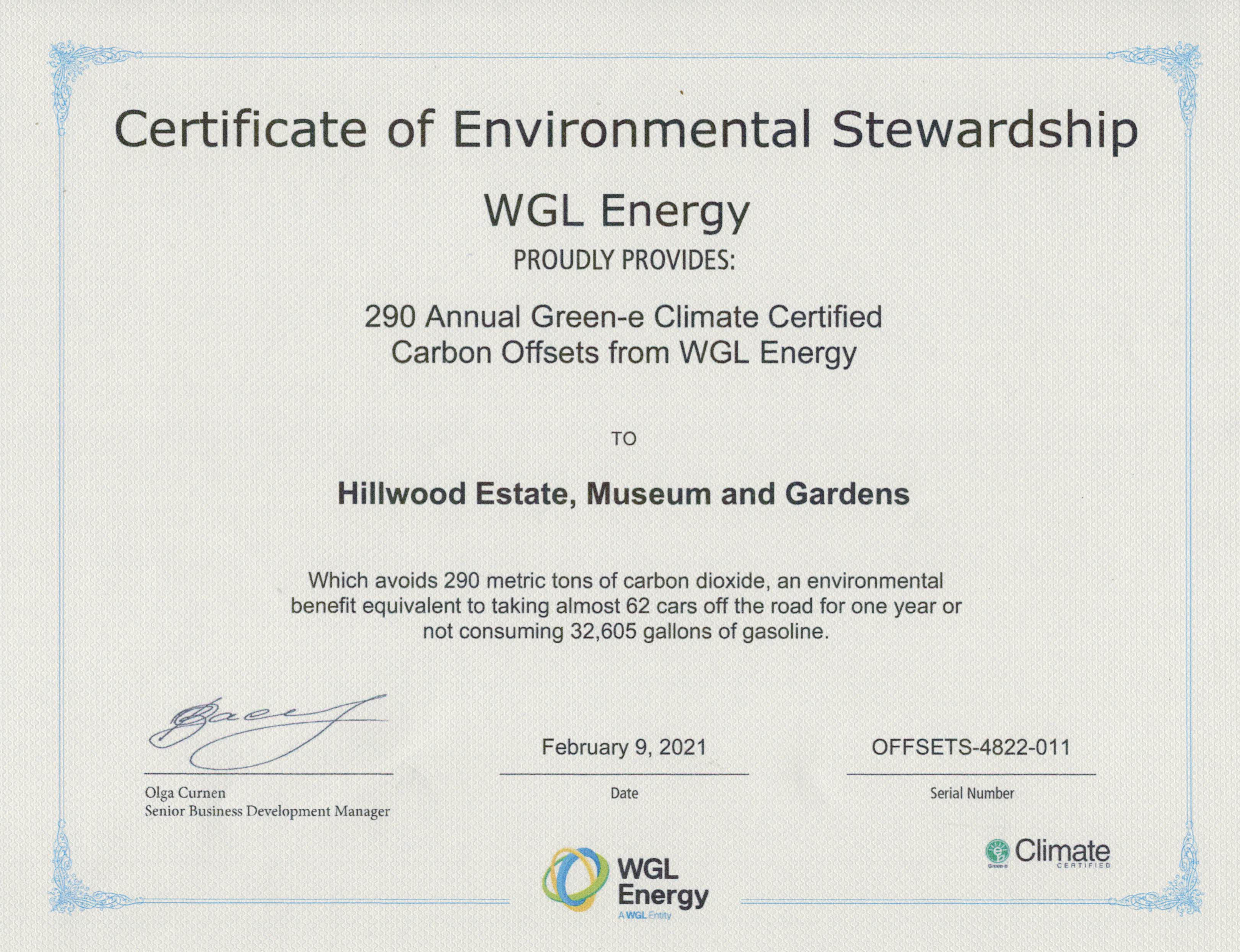 Since 2019, we have reduced our annual campus-wide energy use by 25% and in 2020 made the leap to 100% green-sourced power. These foundational steps have reduced our carbon footprint by more than 655 metric tons per year. 
Hillwood has recently taken an environmentally conscious step to reduce the impact of our natural gas use. Starting in September 2021, all natural gas used will be carbon-offset. Guaranteed through a multi-year gas purchase contract, we will fund carbon-offset programs such as reforestation, carbon sequestration research, sustainable power development and energy savings programs. 
Thanks to recent HVAC systems upgrades, Hillwood has significantly reduced our use of R-22, a very common yet environmentally harmful refrigerant. 
We have installed cutting edge water quality monitoring equipment in the central plant to reduce our cooling tower usage by more than 15,000 gallons per year. 
Our lighting retrofit program has incorporated over 1,500 LED lights in just 3 years. We have a goal of expanding the program by 25% in 2022.
Due to Hillwood's use of only renewably-sourced energy and a natural gas contract that incorporates carbon offsets, Hillwood's carbon footprint reduction initiative has surpassed 945 metric tons per year.