Russian Sacred Arts Gallery
The second floor hosts a peaceful gallery dedicated to sacred Russian Orthodox ecclesiastical objects: icons created for the veneration of saints, elaborate chalices used for communion, and vestments, chalice covers, altar cloths, and other religious textiles.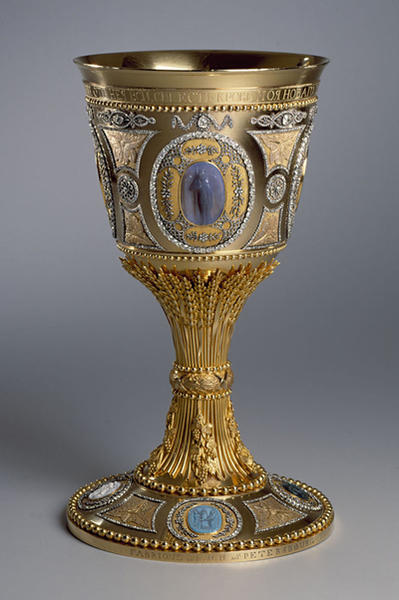 The Soviet Union was committed to the destruction of religion, destroying churches, mosques and temples. During her stay in Moscow, Marjorie Merriweather Post encountered religious objects for sale in commission shops and lamented that an important part of Russian life was disappearing. Post began a collection of Russian religious pieces, eventually accumulating more than two hundred such objects.
The most magnificent piece from her collection—a gold chalice that Catherine the Great commissioned in 1791 as part of a communion set—stands in splendor in the center of the room. Also on display, vestments worn by Russian Orthodox clergy are magnificently embellished to emphasize the glory of the kingdom of God. Icons, made for both public and private use, can also be viewed in this tranquil space.