Wild Creations: Great Gardens in Homes with Hilton Carter
This is the first program in the Great Homes and Gardens livestream lecture series.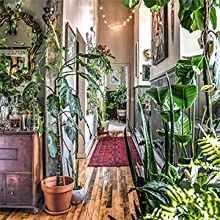 Baltimore-based plant and interior designer Hilton Carter brings high impact design to life in your home—literally.   
 
As the owner of over 200 houseplants, Carter feels strongly about the role of plants in one's home: it's not just about the beauty. "Having plants in your home not only adds life, but changes the airflow throughout," he said. Carter discusses how to create an instant impact and stunning spaces where ivy and creeping figs hang miraculously from ceilings, mosses grow effortlessly to create living walls, or succulents flourish planted in terrariums. With luscious photography, Carter offers guidance on how to combine varying shades of greenery, shapes, and textures of foliage in bold, beautiful ways along with hints and tips on plant care to help your plants thrive. 
Wild Interiors: Beautiful plants in beautiful spaces and Wild Creations: Inspiring Projects to Create plus Plant Care Tips & Styling Ideas for Your Own Wild Interior are available in the museum shop.
 
CONNECTING WITH ZOOM
This virtual lecture is presented live via Zoom. Participants can submit questions via the Q&A feature.
Registered users will be emailed a link to join this Zoom program. To get started, please download Zoom on your chosen device and explore the Frequently Asked Questions. This program will be recorded.
ABOUT THE SPEAKER
Hilton Carter is a director, editor, and fine artist, who loves making things. He is passionate about plants—his apartment is filled with over 200—and has a loyal following on Instagram (@hiltoncarter) where he shares his knowledge of plant care and styling.
Born in Baltimore, Maryland, Carter began his passion for the arts at an early age. This will and desire would take him from enrolling in summer art classes at local community colleges at the age of nine, to a high school that specialized in art and technology. After graduating high school, he would receive his BFA from The Maryland Institute College of Art and continue his studies to earn a MFA from Art Center College of Design in Pasadena, California.
His freelance work as a filmmaker and editor allowed him to travel around the U.S. and would eventually bring him to New Orleans in 2014. For him, it all started with one plant, a fiddle-leaf fig named Frank, to be exact. As he explains in his best-selling book Wild at Home: How to Style and Care for Beautiful Plants, his interest in plants started out as purely practical: he was averse to putting up curtains in his New Orleans apartment, and decided to try a more natural approach to creating privacy, using plants. His experience as a novice indoor gardener was gratifying as Frank flourished in the bright and humid conditions. But when Hilton had to move to a home with less ideal growing conditions, Frank's leaves turned yellow and started to fall off. Five years later, Frank is now thriving in the Baltimore apartment he shares with Carter and his wife Fiona, their cats Isabella and Zoe, pup Charlie, and 200 other plants.
ABOUT THE GREAT HOMES AND GARDENS LIVESTREAM LECTURE SERIES
Escape February's dreariness and immerse yourself in the stories of extraordinary homes, lush gardens, and the people who brought them to life, all from the comfort of home.
Tuesday, February 8: Wild Design: Great Gardens in Homes with Hilton Carter
Wednesday, February 16: Adventures in Eden: Tales of Garden Making in Europe Today with Carolyn Mullet 
Wednesday, February 23: From Palm Beach to Shangri-La: The Architecture of Marion Sims Wyeth with Jane S. Day, Ph.D. 
Wednesday, March 2: Design Remix with Corey Damen Jenkins
 
Related Programs
Tue, Feb 8 - Wed, Mar 2 2022, All day
Escape February's dreariness and immerse yourself in the stories of extraordinary homes, lush gardens, and the people who brought them to life, all from the comfort of home.
Wild Creations: Great Gardens in Homes with Hilton Carter