Virtual Orchid Repotting Demonstration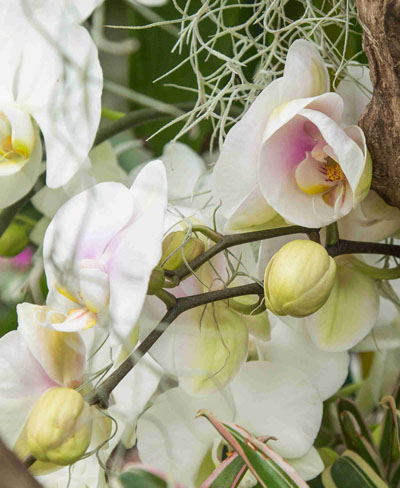 Orchids need to be repotted every few years to thrive and produce delicate blooms. Horticulturist Drew Asbury demonstrates how to repot the most common types of orchids, including Phalaenopsis, Cattleyas, and Oncidiums. Learn to help your plants leaves and root systems, identify the proper potting media, and ask the expert your questions.
CONNECTING WITH ZOOM
This virtual class is presented live via Zoom. The demonstration begins at 12:30 p.m. Participants are encouraged to submit questions via the chat feature. Please note that this workshop will be recorded.
Registered participants will be emailed a link to join this Zoom program. To get started, please download Zoom on your chosen device and explore the Frequently Asked Questions. 
ABOUT THE INSTRUCTOR
Drew Asbury (he/him) is Hillwood's horticulturist and volunteer manager. He joined Hillwood in 2012 and is responsible for the greenhouses, the cutting garden, and the horticulture volunteer program. Drew has worked professionally in the horticulture industry for nearly twenty years in a variety of positions including garden center sales, greenhouse growing, and landscape management and design. Drew graduated from the Longwood Gardens professional gardener training program in 2006 and completed a master's degree in sustainable garden design from The George Washington University in 2020.
Related Programs
Tue, Mar 1 - Thu, Mar 31 2022, All day
Marjorie Merriweather Post had a lifelong love affair with orchids, her favorite flower, investing significant resources into fueling this passion. Today, Hillwood's collection contains over 2,000
Virtual Orchid Repotting Demonstration