Virtual Conversation with Artist Roberto Lugo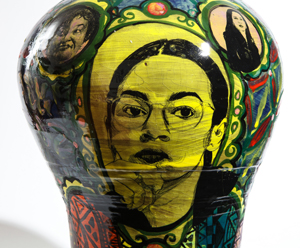 Join Roberto Lugo, American artist, ceramicist, social activist, spoken word poet, and educator, for a conversation with curator Rebecca Tilles. Lugo's work is featured in The Luxury of Clay: Porcelain Past and Present, including the vase Good Trouble, which Hillwood recently acquired. 
CONNECTING WITH ZOOM
This virtual lecture is presented live via Zoom. Participants can submit questions via the Q&A feature.
Registered users will be emailed a link to join this Zoom program. To get started, please download Zoom on your chosen device and explore the Frequently Asked Questions. This program will be recorded.
ABOUT THE SPEAKER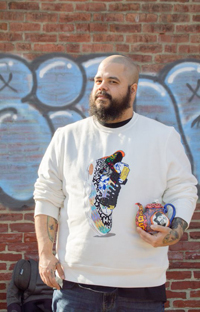 Roberto Lugo (b. 1981) is a Philadelphia-based American artist, ceramicist, social activist, spoken word poet, and educator of Puerto Rican descent. Known for his porcelain sculptures, Lugo's work centers on illuminating porcelain's historically aristocratic surface with imagery commenting on inequality, poverty, and social and racial injustice.
Lugo draws on traditional European and Asian porcelain forms, such as urns and teapots, as well as classic decorative patterns and motifs and combines them with his own stylized content and imagery inspired by urban graffiti and hip-hop culture. In many cases, he features portraits of people from the Black and Latino communities—including civil rights leaders, hip-hop artists, writers, and other cultural figures along with himself and family members—whose faces, stories, and values have been historically inaccessible to and absent from such luxury items as fine porcelain.
Lugo's work has been featured in exhibitions at numerous institutions such as the Metropolitan Museum of Art and the Philadelphia Museum of Art and can be found in the collections of many institutions, including the National Museum of African American History and Culture and now Hillwood. Among Lugo's numerous awards are a Pew Fellowship, the Cynthia Hazen Polsky and Leon Polsky Rome Prize, and a United States Artist Award. He is an assistant professor of ceramics at the Tyler School of Art and Architecture at Temple University, Philadelphia.
Photos courtesy of Wexler Gallery.
 
Related Programs
Wed, Mar 23 - Thu, Apr 21 2022, All day
Explore stories behind porcelain past and present.
Virtual Conversation with Artist Roberto Lugo