Vaux-le-Vicomte, France's Best Kept Secret Ever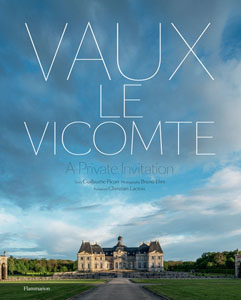 Explore Château de Vaux-le-Vicomte—a 17th-century masterpiece which inspired the design of Versailles—with co-owner and manager Alexandre de Vogüé. Alexandre offers insight into the fascinating history of the estate and the contemporary challenges that he and his brothers are facing in managing the largest private property in France listed as a historic monument.
HYBRID PROGRAM
This lecture will be presented in the theater in the Ellen MacNeille Charles Visitor Center, and will be livestreamed via Zoom. Visitors can submit questions for the speakers from any location. 
Proof of full vaccination against COVID-19 is required to attend this onsite program at Hillwood. Patrons must display a physical or digital copy of their vaccination card/record and a government-issued ID, such as a driver's license, with the same name upon arrival at the program. Ticket purchasers are responsible for communicating these rules to whomever they provide tickets. The vaccine requirement also applies to speakers and staff.
Click here to see how Hillwood is following the latest health and safety guidance.
IN-PERSON TIMELINE
5:30–6:30 p.m. | Explore Hillwood
•    Self-guided touring of mansion, gardens, greenhouse, and The Luxury of Clay: Porcelain Past and Present 
•    Find the perfect memento from your visit at the museum shop
6:30–7:30 p.m. | Lecture in the theater
7:30 p.m. | Book signing. Vaux le Vicomte: A Private Invitation is available in the museum shop.
ABOUT THE SPEAKER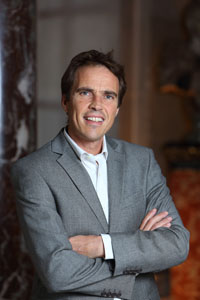 After a childhood spent at the château and a few years in Paris for his business administration studies, Alexandre de Vogüé completed his military service in the alpine troops based in the French Alps and went on to become a professional mountain guide. After twenty years in the grand air, traveling the world to climb mountains, he was ready to face what he calls his "family duty."
In 2011, he entered the family company at Vaux-le-Vicomte as the communication and marketing director. He then became the director for development, creating the International Friends of Vaux-le-Vicomte Conservancy, a non-for-profit fund hosted in New York City, USA. During recent years, he took over the responsibility for the collection of art and archives of the château, setting up a scientific committee, as well as partnerships with museums and universities in France and abroad. Together with his brothers, the fifth-generation owners of their family estate, he oversees an ongoing and ambitious restoration program, balancing a rigorous attention to historical preservation and cultural heritage.
Photos courtesy of Alexandre de Vogüé.
Vaux-le-Vicomte, France's Best Kept Secret Ever