Outdoor Film | House of Cardin (2019)
Revel in a summer evening in Hillwood's luscious gardens and experience an outdoor film like nowhere else in D.C., presented as part of Films on the Green DC.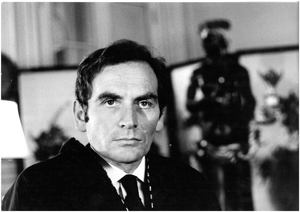 Explore Hillwood's newest exhibition Grace of Monaco: Princess in Dior before taking in the recent documentary House of Cardin, which examines the extraordinary life and career of legendary fashion designer Pierre Cardin (left), who started his career at Christian Dior. 
This event is rain or shine. In the event of rain, the screening will be moved to indoor locations.
PROGRAM TIMELINE
6-7 p.m. | Visit the museum shop
6-8:30 p.m. | Explore Hillwood
About 8:30 p.m. | House of Cardin begins
ABOUT THE FILM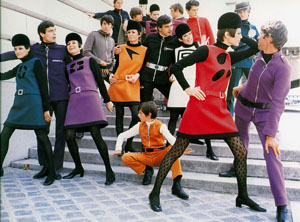 Millions know the iconic logo and ubiquitous signature but few know the man behind the larger than life label. Ultimately we seek to answer the question: Who is Pierre Cardin? What is the story behind this legendary icon? House of Cardin is a rare peek into the mind of a genius, an authorized feature documentary chronicling the life and design of Cardin. A true original, Mr. Cardin has granted the directors exclusive access to his archives and his empire, and unprecedented interviews at the sunset of a glorious career.
COVID AND PROGRAM GUIDELINES
Weather permitting, this program takes place outdoors. In the event of rain, the screening will be moved to indoor locations.
Picnicking on the Lunar Lawn is welcome at this program. 

Please bring your own lawn chairs or picnic blankets.
Note that our liquor license does not allow patrons to bring in outside alcohol. 

Food and drinks, including beer and wine, will be available for purchase from Merriweather To Go.
See our visitor guidelines for information about how we are following the latest local and national guidance. 
Films on the Green is produced nationally by Villa Albertine, a new kind of cultural institution launched by the French Government, in partnership with TV5MONDE, and is supported by the Dina Merrill Film Program at Hillwood.
Photos courtesy of House of Cardin directors P. David Ebersole and Todd Hughes.
Top: Pierre Cardin at his atelier in the late 1950s. (Photo: Pierre Cardin Archives)
Middle: Striped jersey leotards and wool panel skirts, Pierre Cardin Paris, haute couture collection, winter 1968. (Photo: Pierre Cardin Archives)
Bottom: Pierre Cardin predicts the Space Age with his 1968 Cosmocorp line (Photo: Yoshi Takata)
Outdoor Film | House of Cardin (2019)