Onsite Salad Bowl Container Workshop
Got sun? Give vegetable gardening a try without the garden. 
Join Jessica Bonilla, director of horticulture, on a short walk to discuss food production, the role of pollinators, and how vegetables can be raised in a limited space. Then, plant a container with lettuce and a variety of salad fixings to enjoy at home. Learn tips for harvesting and re-seeding for succession planting.
All materials are included. Please wear comfortable shoes and clothing. You'll be standing and working with plant material. Payment is required in advance and is non-refundable. This program is limited to ten participants and must have a minimum of four participants. In the event the workshop is canceled, participants may choose a refund or to participate in another session. 
These containers are wider than they are tall, but to ease transportation, bring an old blanket or two in your car for easy clean up and to help cradle your pot during the drive home. 
IN-PERSON PROGRAM GUIDELINES
Proof of full vaccination against COVID-19 is required to attend this onsite program at Hillwood. Patrons must display a physical or digital copy of their vaccination card/record and a government-issued ID, such as a driver's license, with the same name upon arrival at the program. Ticket purchasers are responsible for communicating these rules to whomever they provide tickets. The vaccine requirement also applies to staff and volunteers.
Click here to see how Hillwood is following the latest health and safety guidance. Face masks are required for all participants, regardless of vaccination status during this intimate workshop. 
ABOUT THE INSTRUCTOR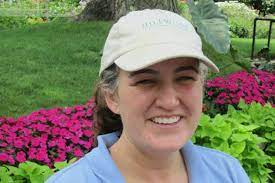 Jessica Bonilla (she/her) became Hillwood's director of horticulture in 2020, after more than a decade working in the horticulture department. She leads her staff in maintaining all aspects of garden and greenhouse upkeep. With over twenty years of experience, she started her career in commercial landscaping and in 2000 became head gardener at a private estate in Rochester, NY, where she also ran her own landscaping business. She currently leads a variety of educational programs at Hillwood and has a bachelor's degree in Landscape Contracting from Penn State.  
Onsite Salad Bowl Container Workshop