Livestream Lecture | Women Collectors of Porcelain Flowers and Floral Painting from 17th-20th Centuries
From Madame de Montespan's scented flower garden at the Trianon de Porcelaine (1670), Queen Mary II's creation of a Water Gallery for her collection of Dutch Delftware and Asian porcelain at Hampton Court (1689-91), and Madame de Pompadour's passion for Vincennes flowers and all things Sèvres, to renowned American collectors of French porcelain, such as Marjorie Merriweather Post and Jayne Wrightsman, this lecture will trace the influential women collectors of porcelain flowers and floral painting from the 17th-20th centuries.
CONNECTING WITH ZOOM
This virtual lecture is presented live via Zoom. The online "waiting room" opens at 6 p.m., and the lecture will begin at 6:30  p.m. Participants can submit questions via the chat feature.
Registered users will be emailed a link to join this Zoom program. To get started, please download Zoom on your chosen device and explore the Frequently Asked Questions. This program will be recorded.
ABOUT THE SPEAKER
Dr. Rebecca Tilles is Associate Curator of 18th Century French & Western European Fine & Decorative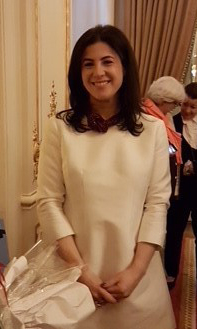 Arts. She recently curated the exhibition Perfume & Seduction (2019), highlighting eighteenth- through twentieth-century European perfume bottles and accessories from Hillwood's collection and the private collection of Givaudan, Paris. She is currently organizing an examination and exhibition on Hillwood's two French eighteenth-century commodes attributed to the royal cabinetmaker, Jean-Henri Riesener, as well as an exhibition on the evolution of porcelain in Western Europe. This fall, Tilles will be organizing a spotlight exhibition on Hillwood's founder entitled Marjorie Merriweather Post and the Diplomacy of Philanthropy, in partnership with the State Department, at the National Museum of American Diplomacy in Washington, DC.  
Tilles completed her Ph.D. in Art History from the University of Sussex (2019) for which her dissertation was entitled George and Florence Blumenthal: A Collecting Partnership in the Gilded Age, 1858-1941. She holds a B.A. (with honors) in French and French Cultural Studies from Wellesley College (2003), an M.A. in European Decorative Arts from The Bard Graduate Center in New York (2007), and studied at the Ecole du Louvre, Paris.
Livestream Lecture | Women Collectors of Porcelain Flowers and Floral Painting from 17th-20th Centuries