Ceremony: A Movement-Based Performance Inspired by Rich Soil
Due to inclement weather, tonight's performance has been canceled. 
Registered guests will receive more information by email. 
Seven groups of life-sized figures seem to move and dance throughout Hillwood's gardens in the outdoor sculpture exhibition Kristine Mays: Rich Soil. Inspired by the movement and themes of these works, Hillwood and Dance Place commissioned a performance by D.C.-based Krystal Collins/new growth collective. Explore Hillwood's gardens with dancers as they examine many lenses of Blackness including queerness, femininity, joy, rage, ancestral, and spiritual practices.  
EVENT TIMELINE 
5:30-7 p.m.     Explore Hillwood's  mansion, gardens, Rich Soil, Roaring Twenties, 
museum shop, greenhouse, and Merriweather To Go
Picnicking on the Lunar Lawn  
7 p.m.     Performance begins (approximately 60 minutes)
Please note that you will be standing and walking throughout the performance.
COVID AND PROGRAM GUIDELINES 
This program takes place outdoors, with limited capacity. 
Picnicking on the Lunar Lawn is welcome at this program.  

Attendees must bring their own lawn chairs or picnic blankets. Hillwood will not provide these materials. 
Note that our liquor license does not allow patrons to bring in outside alcohol.  

Food and drinks, including beer and wine, will be available for purchase from Merriweather To Go. Please note: Advanced ordering is not available.
See our visitor guidelines for information about how we are following the latest local and national guidance. Pump hand sanitizer will be available. 
INCLEMENT WEATHER PLAN  
Weather-related cancelations will be announced by 3 p.m. 
ABOUT KRYSTAL COLLINS/NEW GROWTH COLLECTIVE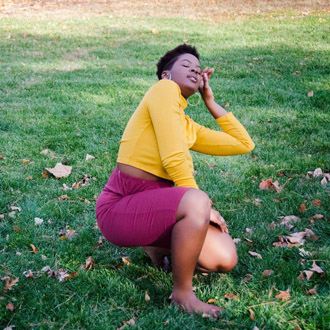 Hailing from the Midwest, Krystal Leniece Collins (she/they) captivated their first audience in the produce section of the local Moo & Oink (may the beloved Chicago grocery chain rest in power).  They are a performer, choreographer, dance educator, curator, administrator and most importantly a proud power disrupting Sagittarius. For them, dance and movement are vehicles that drive toward community, social change and liberation. As a Black non-binary femme, Krystal's artistic practice amalgamates many lenses of Blackness, including: queerness, girl/womanhood, popular culture, joy, ancestral and spiritual practices. new growth collective is a decentralized movement and dance education incubator that champions fluidity, world building and movement as mutual aid. Still in its inaugural year, learn more about new growth collective on Instagram (@newgrowthco_). 
Image credit: Elliot Reza
ABOUT DANCE PLACE 
Founded in 1980, Dance Place builds a community of artists, audiences and students through high quality performances, commissions, training and educational programs. Dance Place is committed to enriching the field of dance locally, nationally and internationally. Its thriving arts campus serves as an anchor in its Brookland/Edgewood neighborhood in Washington, D.C. 
Ceremony: A Movement-Based Performance Inspired by Rich Soil